The Panel tell us how the fight will go - and if Ricky Burns will keep hold of his world title
How will the fight go and will Ricky Burns keep hold of his world title? The Panel discuss...
Last Updated: 28/02/14 12:19pm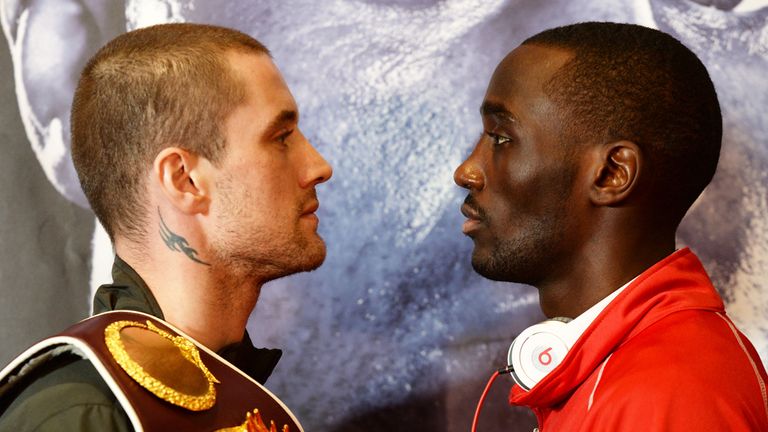 The Scotsman defends the WBO lightweight belt against Terence Crawford on Saturday night in Glasgow - but many are making the undefeated American favourite to win the fight.
Burns has not boxed since breaking his jaw in September but has no fear when it comes to pain and promises British fight fans he will send the challenger home empty-handed.
The first world title fight of the season tops the bill on Fight Night Live on Sky Sports 2 from 7.00pm, this Saturday.
So who better to set the scene than Scotland's former lightweight world champion Jim Watt, as well as Johnny Nelson and Glenn McCrory, who will be at ringside...
We've seen some of Terence Crawford now and we know what Ricky Burns can do, so how do you see the fight unfolding?
GLENN: I want to see Ricky Burns pumped up in the dressing room, almost to breaking point. It will be emotional but he needs to be ready to go. I want to see him sweating, well warmed up because I want to see him march to the middle of the ring, land the hardest shot he can and push Crawford back from the start. If he's got any sense, Crawford will have done his homework and watched the Beltran fight and try to repeat that, so Ricky needs to, and will be, up for this. Crawford might try the same thing, much like George Groves did against Carl Froch, but I think he might not be as confident having listened to the Flower of Scotland and the crowd baying for his blood. Ricky has the experience of going 12 rounds and, as long as he is in control, he can get better as the fight goes on. Crawford looks like he wants to move around and send shots in from different angles but we know Ricky likes to walk opponents down and get in their faces and I do think the challenger's style might suit him down the ground. He might find him easier to hunt down.
JOHNNY: Ricky will have to throw caution to the wind, unless he can come up with a different gameplan. Ricky is a back-foot fighter with a good counter punch and he is good at that which has made him so successful. But that is what Crawford is good at too - very good - so if he doesn't want to fall behind from the off, Ricky might well have to change his usual plan. That means shutting Crawford down, not letting him get into a rhythm and then turning it on as the second half comes around. That is where we always see Ricky come into his own, it's just the first part that worries me. The determination and desire to pull through are what we will see from Ricky - and it's what he'll need. A lot of people are looking at Crawford and thinking it's a done deal. Whatever happens this is going to go right down to the wire and that means I can see Ricky Burns pulling it off again.
JIM: It will be a red-hot atmosphere in Glashow but in the cold light of day, Crawford is a smart, slick fighter and looks like he could be a nightmare for Ricky. If he is going to avoid the nightmare scenario, Ricky cannot take him on in a stand-off boxing match. He's got to engage the guy and get on his case in the early rounds and make sure Crawford has to graft, work hard and take some gas out of his tank in the first half of the fight. He has to cut the range down and take some chances. You can understand if he is worried about coming back from the broken jaw but he has got a really good chin and he is strong enough to take shots as he tries to unsettle the rhythm. I am sure Ricky is going to enjoy the second half of this fight more, even though those last two performances and that jaw have thrown him straight into the deep end. He has strength, determination, will to win and we are going to see that, that's for sure.
And finally, you are not just former world champions but also pundits, so give us your predictions
GLENN: Well you can say what you like about Crawford and he might well be the next coming in American boxing but believe me there is one thing he will have no idea about - the atmosphere. When he hears the Flower of Scotland being belted out and 15,000 fans pumped up and right behind Ricky, he will wonder what is going on! Of course, you are prepared for the ringwalk but once he is in the ring and looks around he could well crumble. Ricky will be even more pumped up than usual because he wants to prove a point and show everyone he is a world champion. He will do and he will win. It is going to the cards but I do think Ricky might win this quite comfortably - in terms of points, not what happens in the ring. This is going to be tough.
JOHNNY: I think Ricky is going to be behind when we go into the second half of the fight. It is going to be a hard slog for Ricky down the stretch but if anyone can get through that and dig deep to turn it around it is the champion. I think he will do it, but only just. Crawford is not a huge puncher so there is no problem going the distance in that respect it's just who convinces the judges they have been the better man. We have seen enough of them recently but I am expecting a decision that really could go either way. But when it comes to it - and it's not just my heart saying this - I'm going for Ricky on a very, very close split decision.
JIM: Well because of Ricky's recent form I can see him being out-pointed by Crawford - albeit closely. I do think it will be a fight of two halves but I just can't convince myself that Ricky is going to be able to close the gap that the challenger has built up in the first half. That said, keeping in mind that Crawford is the one who's not proven at the very top level and there are no big wins on his record and he hasn't done anything that Ricky couldn't do, I could well be wrong. Ricky does have that desire and the ability to pull it out of the bag so it wouldn't surprise me if he did - but if I had to put my house on it, I'd have to go for Crawford. I hope I am wrong, I really do.