Johnny Nelson watched George Groves get under Carl Froch's skin at Wembley
George Groves was in control amid the chaos and his cube at Wembley, says Johnny Nelson.
By Johnny Nelson
Last Updated: 11/03/14 4:10pm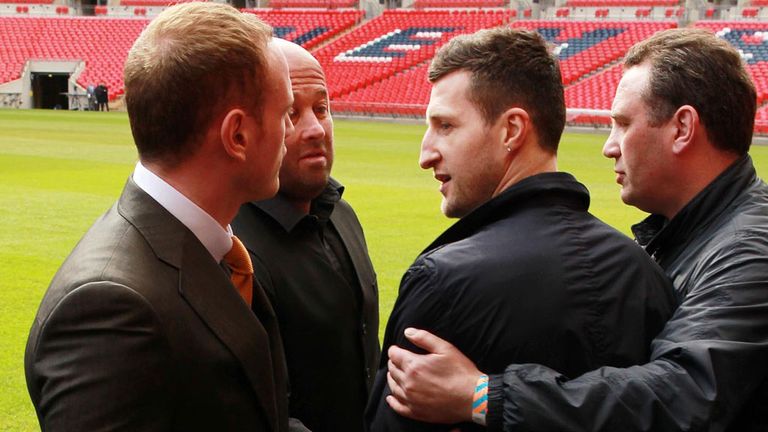 You all saw what happened at Wembley on Monday (check out the video). That was the first time I've been there - and I immediately wished I was boxing there.
That in itself is something special but then you look at this morning's papers and it is back page news again. It has stepped up a gear already.
Then of course 60,000 tickets were sold inside an hour! An hour? That shows you just what it means to the British public.
I am down at Cheltenham today and have already spoken to three touts and they were trying for 80 minutes to try to get anything. And when I tell you they ended up with nothing, you know this has gripped the country already.
And all that happened before that shove!
I am sure you have seen it but did the cameras catch everything? I am not so sure because it was not completely out of the blue, it was not Carl Froch just losing the plot.
I could see George Groves leaning on Carl, with his right shoulder, trying to not only unbalance him but undermine him as well.
Brilliant
That is why the shove came and I have to be honest and say if I were Carl, I'd have turned on him, rather than held it together and turned away.
It would've wound me up something rotten and the hardest thing would've been to walk away.
Groves, though, is brilliant when it comes to those mind games. I have to rate him even more after watching him closely at Wembley.
You can tell the shove was pre-planned from George's reaction to Eddie Hearn but one of the phrases he used a few times made sense: everything's done for a reason.
The Rubik's Cube was a classic example. I saw that come out as soon as the first question was put to Carl. I know the plan was to finish it before he stopped talking and he managed four sides, before he had to put it down when he'd stopped talking.
It just took the attention away from what Carl was saying. Carl came out with all the right things and he looked calm and collected. To start with at least.
The fact that his brother Lee was giving it the big one as well didn't help either. You can understand him sticking up for his brother but he should've kept quiet because he gave Carl something else to worry about.
I spoke to his brother afterwards about it but before I got there we all saw George just march off stage at the press conference and went face-to-face with him and greeted him with "Hello, sweetheart!"
It was another perfect example of just what George Groves can do to undermine you. Carl said he made the mistake of getting caught up in it a bit last time and was not going to fall into the same trap that James DeGale did when he took on Groves.
Well, it might be a bit too late for that. It just adds fuel to the fire and it just means that the whole of Britain will be watching come May 31.
Which gives me enough time to get a Rubik's Cube and learn how to complete it!