Tony Bellew showed he has cruiserweight potential, says Johnny Nelson
There were promising signs for new cruiserweight Tony Bellew on Saturday night, says Johnny Nelson.
By Johnny Nelson
Last Updated: 17/03/14 5:16pm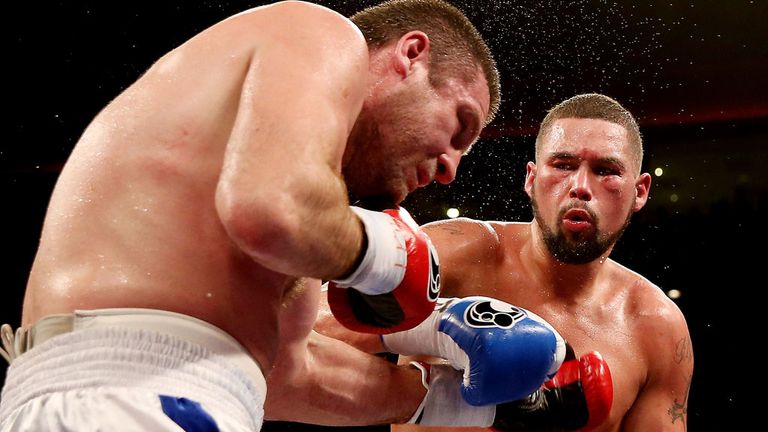 The hometown fighter delivered a win in Liverpool in his first bout at the weight, stopping Valery Brudov in the final moments of their 12-rounder.
Confidence is going to be a big factor for Bellew as he steps into this new world - and his performance at the Echo Arena should give him plenty of that.
Before the fight everyone was wondering whether he'd be able to take the shots at 190lbs but we saw in the seventh round he most certainly can.
Anyone who got hit by that right-hander from Brudov would have been staggered. However, if you couldn't cope with the cruiserweight power you'd have been knocked out.
Instead, Tony held on, survived and came back to knock Brudov down for a third time.
Boxing-wise I'd say Bellew's technically a lot better than a lot of the cruiserweights out there. If he can couple that with confidence in his ability at the new weight-limit - and importantly grow into the new physique - then he can do well.
Bellew boxed as a heavyweight as an amateur so he is used to being around that weight from his days before being a professional light-heavyweight and I actually think we're going to see some really exciting fights with him.
I reckon we'll see more of Bellew putting his opponents on the ground with his increased power - but there's also the chance he might be on the canvas a few times, too.
It will be interesting to see how it develops. Bellew has said he's not particularly interested in the domestic scene and wants a world title as soon as possible but I'd like to see him take on Nathan Cleverley again.
The pair met at light-heavyweight but those two at cruiserweight would be a great fight to watch.
We know there's no love lost between them and that match-up could be on the cards before Bellew gets his world title shot.
Class
Kell Brook was on the cusp of fighting for a world title but on Saturday night had found himself in the ring with Alvaro Robles.
Understandably, if you prepare for a world title fight and then fight someone without a belt it is hard to get yourself up for it - and Brook said he'd felt that way before the bout.
However, he should be proud of himself because he did really well.
He dealt with the danger in front of him impressively and saw off Robles with relative ease. It wasn't as embarrassingly easy as Kevin Mitchell's defeat of Karim El Ouazghari earlier in the night, but Kell worked for his win and showed his class.
Now he has to play the waiting game - again!
Shawn Porter and Paulie Malignaggi will meet in April for Porter's IBF strap and Kell will find out then who he has to face.
It's frustrating, though. Does Kell wait and risk going off the boil and going stale or does he take another fight in the meantime and risk getting turned over, cut or damaged?
However, whether he faces Porter or Malignaggi it should be an excellent fight.
Malignaggi is actually a big fan of Kell Brook and I reckon he'll beat Porter. He's tricky, he's crafty and he knows how to steal rounds. If that was the case then Malignaggi-Brook is a fight that could be made in the UK.
But without a doubt I expect Kell to come out on top against either of them. I think both Malignaggi and Porter are easier opponents for Kell than Devon Alexander would have been and hopefully, when he finally gets his shot at the world title, he'll be able to take it.