The North East is back on the big-time boxing map thanks to Stuey Hall, says Glenn McCroy
Stuey Hall has put the North East back on the boxing map, says Glenn McCrory - despite Saturday's outcome.
Last Updated: 31/03/14 4:41pm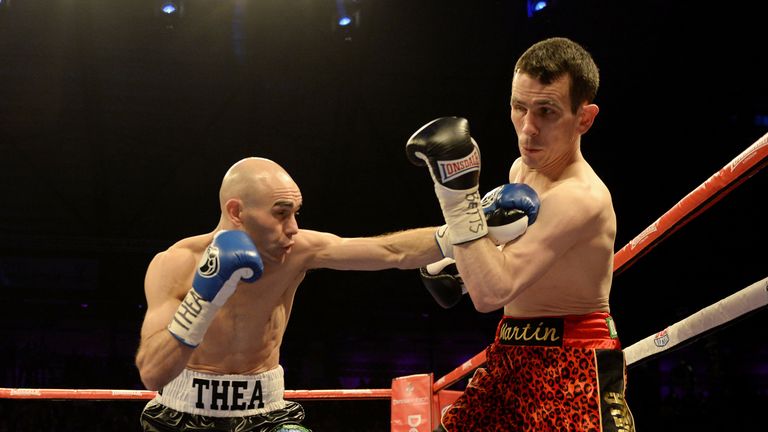 It was just great to have big-time boxing back in the area.
Not only in the shape of Stuey Hall and Martin Ward did we have a world title back up here, we had a great undercard full of local fighters.
And even if the stoppage was disappointing, it was the headline act that had people wanting to watch it. In the past we have had world-title fights in Newcastle but it's been Nigel Benn, it's been Naseem Hamed or Joe Calzaghe and of course, none of them are local lads.
Before that it was me and my old mate Billy Hardy who brought the world title fights home, so to see it happening again 25 years later, was incredible.
The arena was buzzing on Saturday night and in all honesty, the area was buzzing again too. There are loads of local fight fans who I always bump into at big fights across the country but at last, it was on their doorstep and I think they showed everybody that the North East has still got it.
Inspiration
We talk about Liverpool, we have talked about Hull this season and now Newcastle is back on the map. We are the country's most northern city and it does mean we do get left out but trust me, we have a great amateur scene up here and that is a huge help.
And in Stuey we have a guy who has a huge part to play. He has done it the hard way and he was on the wrong side of the tracks but the way he has turned his life around makes him an inspiration.
He now goes to the local schools telling the kids not to get into trouble and his success keeps boxing back on the front pages up here.
He works so hard and although we only saw a round of his world title defence, he looked on fire. It was a great idea to have Hall and Ward go at it, have two local fighters battling out out for the world title. It was just a shame the way it ended.
I don't think the cut was bad enough to stop it that early. Referee Marcus McDonnell is not overly-cautious when it comes to making calls but when I got back home and watched the replay, it was not his decision.
It was a shame for Marin Ward and a shame for us all and I am afraid these two are not going to get it on again.
Rugged
I want to see another world title fight up in the North East and who better than Jamie McDonnell. He and Paul Butler were watching from ringside and he wants it, I know Stuey definitely wants it and lets hope the IBF do too.
If it does happen you know you are going to get a decent undercard too because we have some great prospects coming through.
You all know about Jon-Lewis Dickinson and the way he is moving up the ladder but Saturday night saw Bradley Saunders look very, very good indeed. He won a bronze in the world championships as an amateur so we knew he was good.
But on Saturday it reminded us all that this kid is going to be worth watching. He is still rough and rugged and but I am certain he will move into that world-class level and that means we could well have another world champion up here.
Well in Stuey Hall we have one who is doing the North East proud and putting us back on the boxing map.