Johnny Nelson explains why there is no place to hide in York Hall - the perfect place to host Prizefighter
Johnny Nelson explains why there is no place to hide at York Hall - making it perfect for Prizefighter.
Last Updated: 03/04/14 6:15pm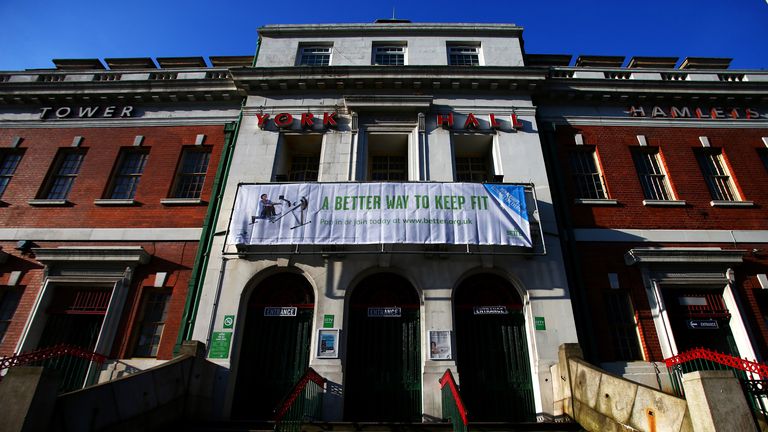 It is second to none but on top of that we have eight men looking to win the £32,000 prize and make a name for themselves again.
The atmosphere is always great for these tournaments and everyone brings their local support with them and it makes it fantastic to be a part of - no matter who is fighting.
But when it comes to the home of British boxing, it is second to none. I have boxed across the pond and on the biggest nights over here, but I have also boxed at York Hall and that is something that will live in the memory. It is just special.
The crowd are sitting right on top of you and if they are talking rubbish about you at the very back of the hall - never mind booing you - you can hear everything!
It doesn't matter who you are fighting, you are going into the lion's den.
Perfect
When it is packed out - and it will be for Prizefighter - it is a great hall because there is so much pressure and it either makes you or breaks you as a fighter.
If you're inexperienced the worst place to box is York Hall. If you are boxing against a home fighter the worst place to box is York Hall. If you are dipping your toe back in the water trying to get a confidence booster the worst place to box is York Hall.
And that alone means it is the perfect place to have Prizefighter.
We have seen it be a spring-board in the past for the likes of Martin Rogan, dear old Audley Harrison and Martin Murray and that is never going to go away.
It can lead fighters to a shot at the domestic title or it can rejuvenate older guys and get them back in the mix.
The welterweight line-up has that blend we have seen before. We've all heard of Erick Ochieng and remember Jason Cook winning the European title and although Prizefighter is not going to shoot them up to world level, it will get them noticed again.
At the other end of the list we have the likes of Paddy Gallagher with a good amateur record and Johnny Garton and Sam Eggington who have made decent starts to their pro careers.
This takes Prizefigher right back down to grass-roots level. No matter who you are, you have nothing to lose and more than the £32,000 to win.
Unique
I am always leaning towards the so-called newcomers, those who have not turned pro that long ago. Seasoned pros have no advantages and in fact, those with the three-round approach fresh in the mind can easily come out on top.
But the one thing the familiar fighters like Ochieng and Cook have is that experience. Not only are they saving their career but they will not get phased or panic. Or shouldn't.
That said we have seen Prizefighter change over the years. At first they all went for the knockouts and that shot them into the limelight but all of a sudden that went away and boxers started to pace themselves because it was down to three fights a night.
They got too smart and it lost it's excitement. But then throw the extra knockout money into the mix and the realisation that you need to do more than win these days to be noticed means the excitement is back.
We are now back in that zone where we know we are going to be entertained by a unique night of boxing. Everyone there will want to be part of it, everyone will be giving each other a bit of banter and they will be behind their mates chances and even have a fiver on him.
If I had to, I would go for Paddy Gallagher. He has the amateur pedigree and he beat Callum Smith yet is the least experienced of the eight. But can he handle the pressure at York Hall? There's only one way to find out...