James DeGale joining Matchroom is the perfect move, says Johnny Nelson
James DeGale's Matchroom switch is the perfect move to get him back in the mix, says Johnny Nelson.
Last Updated: 11/04/14 10:20am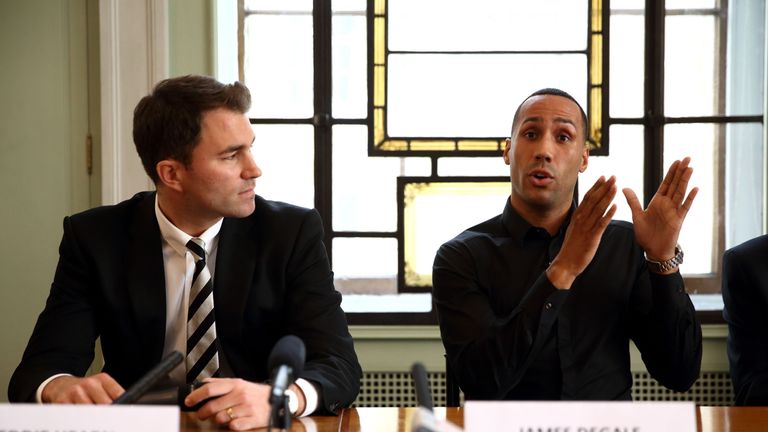 He had gone stale and although joining Matchroom is great, the best thing about it was seeing him with a spring in his step again.
Forget the bigger picture for now and try and forget Wembley on May 31st, because James' career has been far from perfect.
In the last two years he has spiralled into oblivion and as he told us yesterday, there were times when he almost packed the sport in.
He lost to George Groves back in 2011 and the British title and then, even though he became European champion, he seemed to get lost, almost disappeared.
To put it into context if you stopped any average person in the street and asked to name two of DeGale's opponents, they will only come up with one... George Groves.
Don't forget this is a man who won the Olympic gold medalist yet all of a sudden he was looking in from the outside.
Happy
But, signing for Matchroom has suddenly opened all sorts of doors - and one huge one to start with. He can now join the super-middleweight party and fight for a world title before the end of the year.
Regardless of his ranking with the IBF and WBC the chances of it happening would have been very, very slim. He would've had to take a different route and it might have fizzled out - and that is the last thing James DeGale needs.
The one thing he needed was to be happy again and fall back in love with boxing and this move, has done just that. This is the best possible move he could've made, in my opinion.
At that press conference yesterday he was buzzing again, he was talking to everyone with a smile on his face. Now in the past he'd have walked into a room people would just give it 'Alright James' and that was that.
DeGale went from filling big venues with decent changing rooms to getting changed in a makeshift cabin outside. For some reason he had gone from king down to pauper but to take a positive from it, it has grounded him.
His career was full of frustration, he must have been banging his head against a brick wall and was breaking his heart and I wouldn't have been surprised if he had walked away.
He has been watching Groves and Carl Froch grabbing all the headlines but he is no doubt thinking he is better than both of them, yet no-one was interested in him. I say was, because believe me Jame DeGale is suddnly in the mix again. Big time.
Hates
And does that Groves hatred still exist? You bet. He looks to have matured and does seem less erratic and more calculated, but when emotions come into it play, you can't always control that.
James has already said that he thinks fighting Froch would be the easiest of the two but when it was time to talk about Groves, he immediately admitted that it still hurts to talk about him and he still grates me inside.
He was trying to keep it in check but discussing him and a fight with him could not get away from the simple fact: he hates him and talking about him gets him mad.
It wasn't a huge surprise but it got me - and most people in the room - rubbing their hands with glee because we can all see exactly where his career is heading now!
It really is a perfect move for James DeGale and it really is the perfect move for British boxing.
I was around when Chris Eubank, Nigel Benn and Michael Watson were battling it out in the middleweight division and there were three bulls in a pen who were scrapping for supremacy.
Well, there's another pen with another three bulls and the gate will be opened on May 31...