Anthony Crolla and John Murray are mates but treat Manchester to a classic, says Johnny Nelson
It will be tough but Johnny Nelson expects mates Anthony Crolla and John Murray to serve up a classic.
Last Updated: 16/04/14 11:06am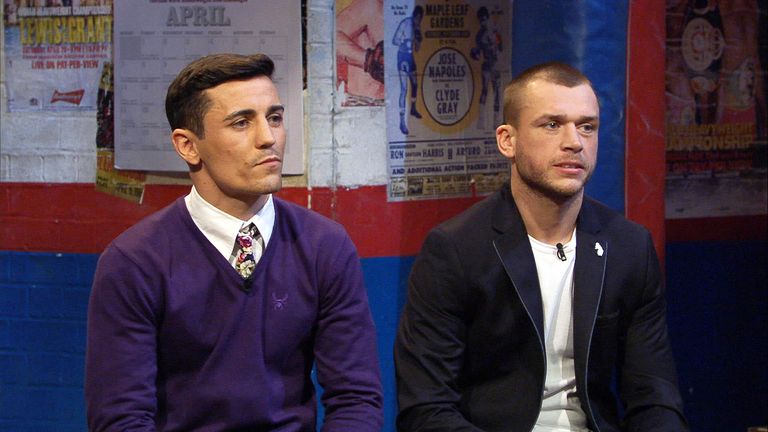 It has played host to some of our best night's recently and that was when it was neutral territory. Now throw in a local world champion and two mates getting it on and Saturday could be the best night yet.
City and United split Manchester down the middle and the same goes for Anthony Crolla and John Murray.
When those two climb into the ring, the atmosphere is going to be electric. This the people's fight and they are Manchester's people; everyone will have an opinion and plenty of people will know either one - or both.
The other factor to throw in there is Joe Gallagher. He trains Crolla but used to train Murray as well before they fell out, which just makes it more mysterious.
Exciting
Everyone will be wondering if Gallagher knows all of Murray's weaknesses or any so-called secrets. Will Murray be even more motivated just trying to put one over his old trainer? Will they even swap glances before or indeed after the fight?
Whatever happens, they will meet in the ring so that makes it intriguing and exciting, even before a punch is thrown.
Crolla and Murray themselves are still friends. Good friends. They were in good spirits together on Ringside last week but they both know this is their job and once that bell sounds, it is on. This is for real.
I never fought a friend that close, thankfully. I did go in with Tony Booth and I got on well with him as a gym-mate and I almost fought Buster Keeton. Believe me it was close to being done and our friends were going crazy. They were friends and so were me and Buster.
To go in with a close friend is hard, I am sure, but you just have to shut it off and I have a feeling both and will gladly do that.
And while it might well feel horrible in the run-up I think it might help Murray and Crolla on Saturday because they will know what the other one is good at or expected to do in a certain situation.
Initially
But thinking you know what the other guy is going to do makes it a level playing field, so someone has to take a chance to try and shake free and win the fight.
Yes they know each other inside out and might well have sparred each other in Gallagher's Gym for years but it comes down to instinct. That is the one thing that will decide this.
And if I am honest I initially went for Murray, because before he fought Kevin Mitchell he was hard, he was tough and I liked his style. But he is a little older now and I am not so sure.
There is only two years difference but it just seems John has been around for years and is now in his second chapter. Crolla has developed into a decent little boxer and I do think that will sway this one.
If Crolla can box he will win but if he wants to stand there and have a brawl with his buddy he will lose. I am leaning towards Crolla but of course there are sure to be moments when they both go at it.
Friends or not, this is going to be one of those domestic fights we will remember.