Scott Quigg will finally get the credit he deserves by beating Tshifhiwa Munyai, says Jim Watt
Setting a pace should see the WBA world champion look good
Last Updated: 18/04/14 11:22am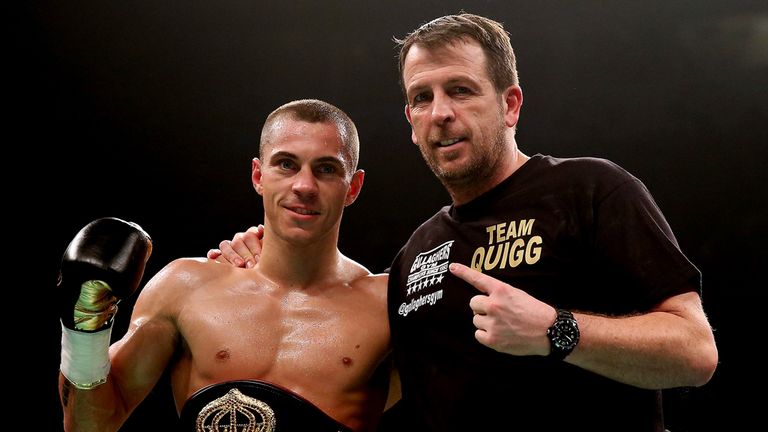 He is a world champion, he is a smashing kid who is on his way up so he deserves to see things go his way for once in Manchester on Saturday night.
Don't forget Quigg won the world title out of the ring and although he was called a champion he didn't really feel like one without winning a world-title fight.
Then when that first fight gave him the chance to win that title in the ring he was held to a draw by Yoandris Salinas.
He then blew Diego Oscar Silva in two rounds and he looked out of his depth, which didn't really give poor Quigg any great credit.
And, of course, while he's had to try and emerge from it all, Carl Frampton has been stealing the show, setting the grass that is always greener on-fire!
Positive
Quigg is always going to be compared with him and although he is the one with the world title, his rival is stealing the march.
The one thing he needs is a big, exciting performance and I think there was a good chance he could have produced that against Nehomar Cermeno but he had visa issues and all of a sudden there is a change in opponent.
Going in against Tshifhiwa Munyai on Saturday night is not ideal and if he wins convincingly people could easily point out he has beaten a guy who came in on week's notice.
Munyai is a difficult and awkward opponent but you know what? Beating him and beating him well will be a huge positive for Quigg and even though late call-ups are never what you want, Matchroom have done well here.
We are not sure if Munyai is going to be as good as he used to be but he is still going to be a difficult opponent, an awkward opponent who can give you nightmares.
I remember him being over here a few years ago (2006) and blowing Lee Haskins and Martin Power away and although he seemed to vanish, if he is as good as he was back then this is going to be an increasingly awkward night for Quigg.
Pace
But the good news is he can really box at pace and that will work well against Munyai. If I was Quigg I would be on him from the first bell, setting that pace because he has prepared for 12 rounds, if nothing else.
Also Munyai is a thinking fighter so he needs time to operate so Quigg needs to make sure he doesn't get any - he has to control just how quick this fight goes. The Bury lad loves to come forward so it will suit him and so does Munyai, but only at his own pace. That could be the deciding factor.
Quigg is also on the rise, his career is on the up and he is picking up experience all the time. There could well be some awkward moments, particularly in the first half, but as it goes on, he should get stronger and take control.
The champion might take plenty of shots he didn't see coming but as long as he keeps working solidly, at speed, for the whole fight, his fitness, stamina and toughness should see him through.
Because they both like to come forward I do think this could be good to watch. They mix well and this looks like it could well go the distance and I am going for Quigg on points.
It should bring the best out of him and given what is going on with Frampton, I am sure he really wants to put on a show. And if he does, he will get some credit as a world champion.