Battle of Manchester: Anthony Crolla and Scott Quigg impress
But it's a sad farewell to Rendall Munroe...
By Johnny Nelson
Last Updated: 21/04/14 1:46pm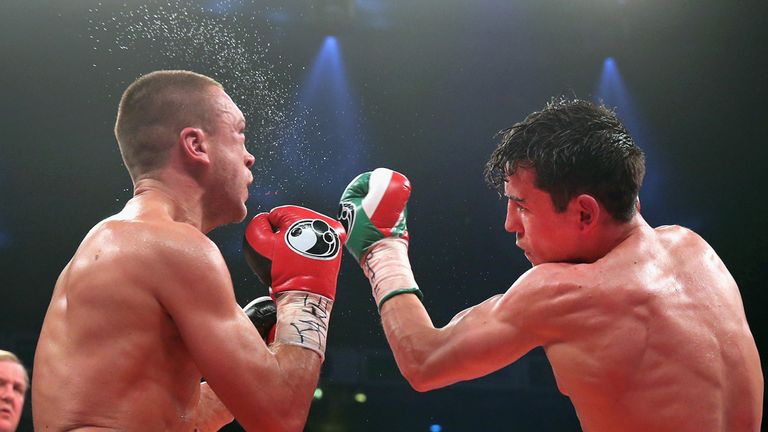 What a night!
Saturday's Sky Live Manchester bill had it all: highs, lows and some great performances.
It was all rounded off by the brilliant local derby between Anthony Crolla and John Murray – a real fight of two halves.
Initially it was Murray putting the pressure on, just as we expected. He gambled, threw the dice and thought 'I'm going for it'. But eventually you saw the energy start to drift out of him and Crolla's patience and pot shots took control of the fight. At one point I had Murray ahead but then Crolla took over and picked him to pieces.
Crolla's footwork and movement was everything. Murray's style suits a young, aggressive man but once you get a little older – and Murray is 29 – that style is made for a boxer – and he was made for Crolla.
Murray's footwork, to me, is not great. It's made for a brawler, not a boxer and he didn't at any point show the boxing skills he told us on Ringside are so underrated. I just saw an aggressive, come-forward fighter.
Crolla, though, put on an excellent performance. They're talking about getting him into the world title mix but personally I don't look at him right now and think he has world champion written all over him. The lightweight division is a tough one and he needs a little bit more experience to step up his confidence to go along with his ability.
At one point I had Murray ahead but then Crolla took over and picked him to pieces.
Johnny Nelson
If he'd boxed like he did against Murray against someone who can both box and fight, giving them a head start like that, then he would lose. He needs a bit more nurturing to hone his ring craft and build his wisdom – but potentially he might eventually get into that world level mix.  
Confidence
Someone who is already at world level – and after Saturday will be feeling more comfortable and confident up there – is Scott Quigg.
Tshifhiwa Munyai – who was a late replacement for Nehomar Cermeno - struggled to make the super-bantamweight limit, which was a massive issue because he was dead at the weight. But, although that would have affected his sharpness and movement, it would really only have taken its toll midway through the fight - and Quigg didn't let it get that far, scoring a stunning knockout win in the second.
No one had done that to Munyai before. The weight and short notice was an issue but it was all about the way Quigg took him out; he didn't give him a chance.
This may be the first fight Quigg's had where he probably thinks 'I feel proud to call myself a world champion'. To this point there had been no significant fight where he could say 'that's it, this is the one that makes me a world champion'.
There are only a handful of fighters who have both the tag of world champion AND believe they're the best in the world. Quigg is one of those people who doesn't think he's the best in the world and needs a world title defining fight but that was a real confidence booster and one which will step him on the way to the defining fight where he can say 'yes, I'm best in the world'.
Immediately after the fight there was mention of Carl Frampton but Quigg says he wants to look at taking on another world champion, such as Leo Santa Cruz or Kiko Martinez, and he has a good chance of making one of those match-ups happen.
The rivalry with Frampton can be put on hold but world title fights don't come around very often and I know which one I'd go for in his position.
Sad farewell
Rendall Munroe sadly announced his retirement on Saturday after losing to Josh Warrington. His tearful interview at ringside brought a lump to your throat. However, when Rendall was fighting I recognised what was happening – he was trying his hardest to get his timing right but it just wasn't there. It happened with me, it happened with Nigel Benn when he walked out of the ring and said I'm done and it happens to a lot of fighters. You train in the gym and think you're alright – you kid yourself you're alright - but your body slows down, you're not as sharp, you can't counter, can't move out of the way... I saw that in Rendall on Saturday and thought 'he's had it'.
Rendall realised it on the big stage, rather than in the gym. He'd trained right, done everything right and it wasn't there. Once those words came out of his mouth, that's when the tears started coming and he got emotional. It's very hard to say 'that's me done'. And thinking about it now, it still gets me. It's the end of something very, very special in your life.
But Munroe can be proud of what he's done. He boxed the best in his division, got to world level the hard way and was just unfortunate with the way it panned out. He conducted himself like a true sportsman and gentleman in and out of the ring throughout his career and he'll certainly be missed.
One to watch
Munroe's final opponent, Commonwealth champion Josh Warrington, did a good job and wasn't overawed or intimidated by fighting someone he's looked up to. He remains unbeaten and we might have seen someone special slip under the radar on Saturday. Everything he did was spot on but Rendall's retirement and the rest of the bill took the shine away from him. Keep an eye on him – he looks like a good kid.  
All good for Gallagher
All in all, it was a great night for Joe Gallagher, though, who had four fighters win on Saturday – Crolla, Quigg, Callum Smith and Hosea Burton. At domestic level he's cleared up and made sure his boys have done their jobs. It's all about taking the right fight at the right time and that's what he's done. Callum Smith, is potentially something very, very special, if he's nurtured and matched right. I bet Joe slept well that night – when he eventually got to bed – because it was a long night for him.