Johnny Nelson expects more fireworks when Carl Froch and George Groves are back on Ringside together
Johnny Nelson expects fireworks when Carl Froch and George Groves meet again on Ringside.
Last Updated: 29/04/14 1:22pm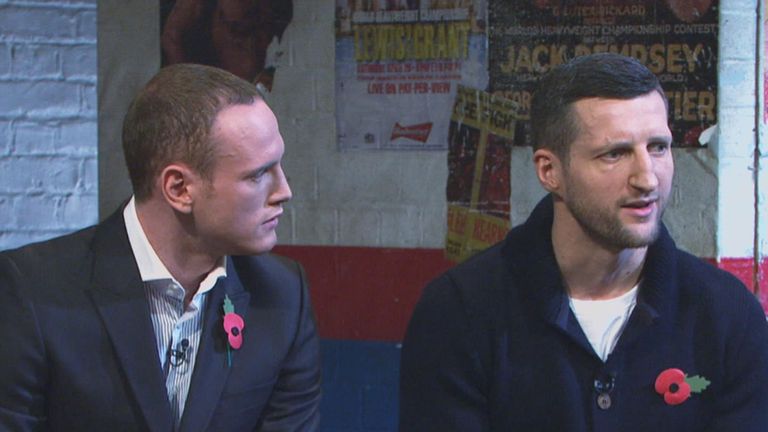 In case you are not aware, Carl Froch and George Groves are going to be back on the show to talk about their May 31 rematch.
Cast your mind back six months, to when they were last both on the show - because that was when this rivalry really kicked off.
Yes, they had exchanged words at a press conference previously, but when they sat either side of Eddie Hearn on Ringside, it was surreal. No-one expected Carl to be that unnerved and rattled.
Ahead of their second fight they've already had their initial bust-up, when Froch pushed Groves at Wembley. So what will happen on Ringside? Whatever the outcome this has already become a must-watch show.
I don't think there will be a shove like there was at Wembley but I am sure that Groves is going to do all he can to get under Froch's skin again, to get on his wick and basically, get on his nerves.
Carl will want nothing to do with him but he knows this is all part of the build-up to what looks like being Britain's biggest fight.
George knows he won't be in the same room as Carl again for a month so this is his last chance. He feeds off these mind games and he is better than many more experienced fighters when it comes to the media game as well.
Disruption
If the fight was closer I would be worried that Groves is doing such a good job at all that, that he might well be losing sight of the prize.
Carl on the other hand will be wanting to focus 100 per cent on this fight and nothing else. With my fighter's hat on, doing all the media so far is not what you want at all.
Maybe in fight week, when you've finished your camp and are ready to go, you are full of it and the verbals are what you want, or need, to really get in the mood.
I think this is going to be a bigger disruption for Froch and everyone will be watching to see just if he can bear being in the same building as Groves.
On top of that, watching how both of them behave in their company and just what sort of state of mind they are in, will be fascinating.
It is a huge indication as to what sort of attitudes these two will take into the ring come May 31.
Whether or not they are both ready to give it their all in the verbal warfare I am not sure. Of course, at Wembley they will not only leave it all in the ring, but also know that is when they suffer the consequences.
But you know what? Froch just doesn't like Groves. In fact he can't stand him, so maybe these two will leave it all in the Ringside studio again.
It is going to be tense, that's for sure, and I am already expecting it to be a little hairy somewhere along the line. But it is must-watch television...