Amir Khan must beat Luis Collazo in style to seal Floyd Mayweather shot
But New York opponent is tough and dangerous
By Glenn McCrory
Last Updated: 02/05/14 8:41pm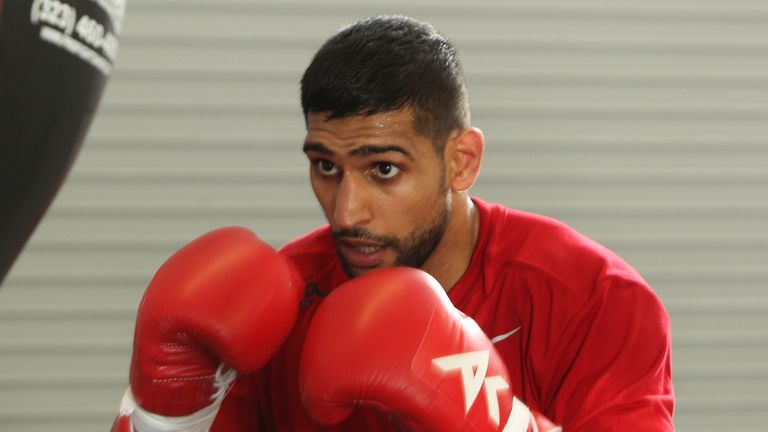 Amir Khan has a golden opportunity on Saturday night to convince Floyd Mayweather he deserves a shot at the undefeated American.
Floyd is a business man – they don't call him Money for nothing – and he knows a fight between him and Khan would be a big fight – but it could be a huge, huge fight.
He's aware the American and British public need to see Khan have a very convincing win over a very good opponent before Mayweather-Khan becomes a super fight. And that's why Amir is on the same bill as Floyd in Las Vegas this weekend.
The message from the Mayweather camp is loud and clear: We'll make you super rich and give you your shot – but you've got to earn it by showing us you deserve it.
Collazo is one of those tough guys you don't really want to be near Amir Khan.
Glenn McCrory
Standing between Khan and his huge payday with Mayweather is Luis Collazo. And he'll be no walk over.
In fact, I'd say he's one of those tough guys you don't really want to be near Amir Khan.
The New York fighter has been in with Ricky Hatton and a lot of people thought that was a very tight fight back in 2006 and Collazo might have won.
He's the sort of guy who would like to upset the odds - and the sort of guy who's capable of upsetting the odds. Khan has been out for a year, he's moving up for the first time to welterweight and this is a tough fight for him. And one fight fans will love.
Opportunity
For Collazo, this is a great opportunity as well. It's a chance for the 33-year-old to propel himself towards big fights and title shots.
He'll take a positive attitude into the ring, too, having seen Khan knocked out by Danny Garcia. That gives every fighter in with Khan – especially those who can punch – that added boost.
If you're fighting Mayweather, he's hard to get to and if you get to him he's still tough. But with Khan, you know there's a weakness, an Achilles heel. That gives fighters an added incentive – and Collazo will be fighting the hardest he's ever fought.
Khan's going to have to be at his best – and if his camp think this is going to be an easy fight they're well mistaken.
There's a lot at stake for Khan on Saturday and it's not good that he's been out for so long because he needs to be sharp for such an important fight.
He's come out and said the break has given him a chance to work on certain things. Well, Amir is normally a great trainer and comes in well conditioned. But I hope they've also worked on him having more patience and using his boxing skills more.
We know he's got speed and beautiful fast punches – but Amir's instinct, as soon as he gets hit, is to fight back. And that's been his undoing at times.
He's a brave guy and his natural instinct is to fight; there's lots of machismo there – if you disrespect him or hit him he'll fight back at you.
But I was taught by a good coach when I was a kid 'if you get caught with a shot, just think to yourself 'well done mate, I'll get you in a minute though'.' That's what they've got to try and instil in him: calmness and discipline.
Lesson
Hopefully, the stunning fourth-round defeat to Garcia has done that. That was a painful lesson and he should have matured because of it.
Amir is star quality, though, and if he gets it right he can come out a good winner and set up the fight with Mayweather he so desperately wants – should Mayweather come through his headline fight with Marcos Maidana.
I wouldn't ever tip against Mayweather against anybody but Maidana does the unexpected – and that's the worst thing you can possibly face.
If someone throws a lead jab, you learn how to deal with it. If someone throws a left hook, you learn how to defend it. It's all text book. But when somebody comes in who throws the back hand first or hooks off the wrong leg - stuff you shouldn't do - with power and authority then it becomes very hard to manage.
That's what Maidana does. That's why he beat Adrien Broner and gave Khan problems – and why he will give everyone he comes up against a really tough time.
He's different, relentless and hard as nails – unfortunately for him, he's going in with an extraordinary talent who has made excellent fighters look ordinary.
Mayweather made Juan Manuel Marquez look like a novice and Saul Alvarez, who is bigger, stronger and younger, look like a boy and bullied him.
Mayweather is close to being the perfect fighting machine.