Froch v Groves II: Jim Watt wants to see Kevin Mitchell make it third time lucky
Jim Watt hopes it's third time lucky for Kevin Mitchell as he aims to edge towards a world title tilt.
By Jim Watt
Last Updated: 27/05/14 11:43am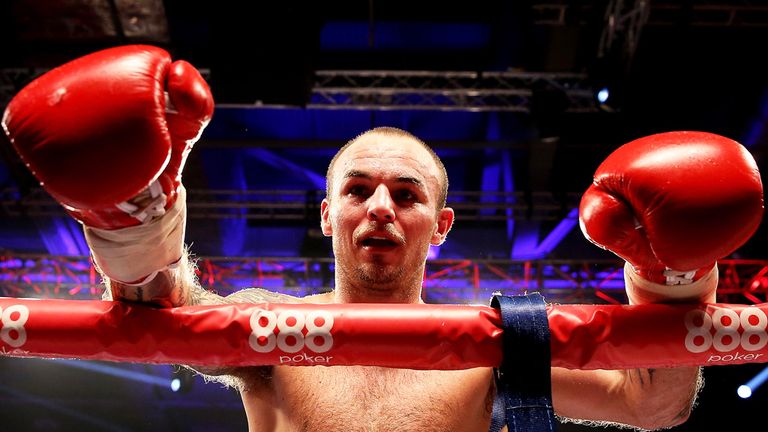 When I first saw him make his pro debut I thought we had something special on our hands and rarely does someone make you think that straight away and look terrific.
OK, it was a few years ago but Mitchell looked just that. He had a beautiful technique, he could punch, he can move and his defence was outstanding. He was a tremendous prospect.
Despite his age he doesn't look that different these days, except one big problem hanging over him as he heads to Wembley: he has collapsed when he's taken on the world's best.
I know he had problems out of the ring and he is the first to admit that but it was just disappointing when you are told he just didn't prepare properly when he had the chance to become a world champion. It is easy to question why, but I never understand when fighters do that.
Mitchell stepped up for Michael Katsidis and Ricky Burns and he got wiped out in both of them so he has not proved what I first thought, that he would become one of the world's best.
But he has now got another chance and his bout with Ghislain Maduma will be one of the most intriguing fights of the night for me, it really will. Mitchell has said his problems were in his head and I have to say he looks like he's got himself back together and is looking really good again.
Close
He signed for Matchroom, which was a good move, and they have done wonders for him already. They are keeping him busy, which is probably the best way to handle him, and if this fight with Maduma is going to move him a big step closer to a world title, I am hoping we will see the best of him again.
They are pushing him towards the IBF and Miguel Vazquez and although he is probably the toughest of the lightweight world champions, Kevin is not getting any younger and knows this is his last chance.
He knows that more than anyone and never mind second wind we often talk about, this is his third wind! The good thing is he seems to have put some form together with some good displays since that disastrous defeat at the hands of Ricky Burns, who is of course a stablemate.
The momentum is back for Mitchell and that is important. Sebastien Benito, Marco Lopez, Karim El Ouazghari and Mikheil Avakyan were not top notch but they kept him active and tuned in and that is something he never had in his first two big chances.
He is also tough and has been in a few wars down the years so with that, plus his ability, he has proved everything. He is good enough technically to beat anyone, he is talented and he has the strength, the power and toughness, so he shouldn't be falling at the last hurdle.
I am hoping those issues have been resolved because I want to see Kevin Mitchell at the top level, firing on all cylinders and ready to show us what we all thought years ago - that he is good enough to become a world champion.
This is a final eliminator, so taking on Maduma at Wembley Stadium on Saturday will show us whether or not it could be third time lucky.
Book Froch v Groves II: Unfinished Business now, online at skysports.com/frochgroves2 or via your telephone on 08442 410888.