Froch v Groves II: Jim Watt tips champion to edge points victory
'Carl Froch can't afford to lose Wembley encounter'
By Jim Watt
Last Updated: 30/05/14 9:55am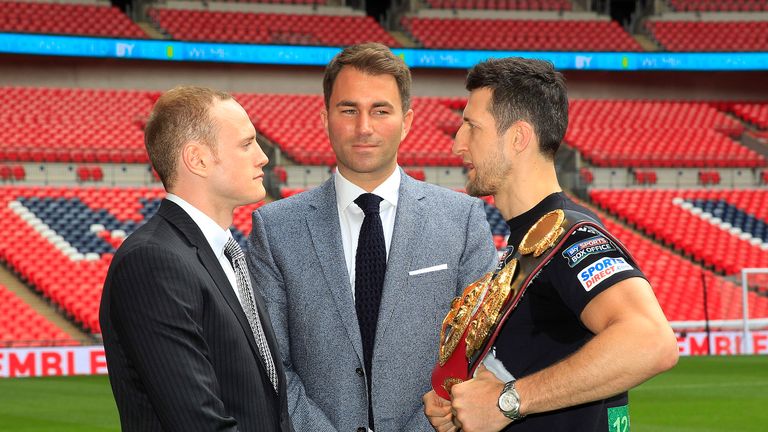 Despite all the talk in the build-up, I haven't changed my mind: I still fancy Carl Froch to win - although I have some doubts!
That is what makes this such a terrific fight and when you are out for a walk, or just sitting back at home relaxing you start imagining in your mind what is going to happen in Wembley Stadium on Saturday.
You can make an extremely strong case for George Groves, who is younger, fresher, naturally bigger and probably a harder puncher than the four-time world champion.
He has all the physical advantages going into this so you think he is going to win. But then you can easily start to think that Groves cannot do anything he didn't do the last time - and Carl was still there, hard as nails, experienced and able to turn the fight in his favour.
Froch's career is on the line here. This fight is one he fears losing and I think he will do anything it takes to win.
Jim Watt
Then your mind sways towards Carl Froch again and it really is so hard to pick this one, it could easily go either way which helps make this such a massive event for British sport, never mind British boxing.
But when it can go either way I always end up at a bottom line and here is mine for this one: George Groves can put up a great performance here, lose and still go on and have a fantastic career and forge a huge reputation. And Carl Froch can't.
Froch's career is on the line here. This fight is one he fears losing and I think he will do anything it takes to win on Saturday. When it reaches the late stages - if it does of course - it comes down to toughness, experience and a sheer will to win and that is going to give Carl the edge. He has done it before and I think he will be able to grind out a points win.
Fast start
Carl is naturally a slow starter and in every single Super Six fight he finished strongly and he did that because he conserved energy in the early rounds. But if you remember the win over Lucien Bute when his career was on the line again, before the first bell had sounded he was halfway across the ring. He is not going to start this one slowly either.
He knows he can't give himself another mountain to climb so he will not make a slow start. But will that suit him because he's a slow starter and will it suit Groves more because Froch may make mistakes doing something he doesn't like doing?
Carl cannot set a constant pace though so he has to get that jab working again. Groves took it away last time and although he isn't a smooth performer, with lightning-fast reflexes Froch depends on his jab to build things up around him. He had no building blocks last time and althogh he might not win the battle of the jab because the challenger's is very quick, he just has to get it into play - as a weapon not a range finder.
I just have a feeling Froch is going to start grinding down Groves eventually so this could even be a late stoppage but probably deep down, I would stick with a ponits win.
Of course if there is a first round knockout before a jab isn't even landed or if it's a sixth-round stoppage - and I mean to either fighter - none of us will be surprised, which reminds us all of just what a wonderful fight this is going to be.
And I am always prepared to be proved wrong but never so much as this particular fight because I could make such a strong argument for George Groves winning - and ruining Carl Froch's legacy.
Book Froch v Groves II: Unfinished Business now, online at skysports.com/frochgroves2, via your remote or via your telephone on 08442 410888.