Froch v Groves II: DeGale can overcome 'very good' Gonzales, says Johnny Nelson
'Chunky' can last the 12-round distance
By Johnny Nelson
Last Updated: 30/05/14 2:51pm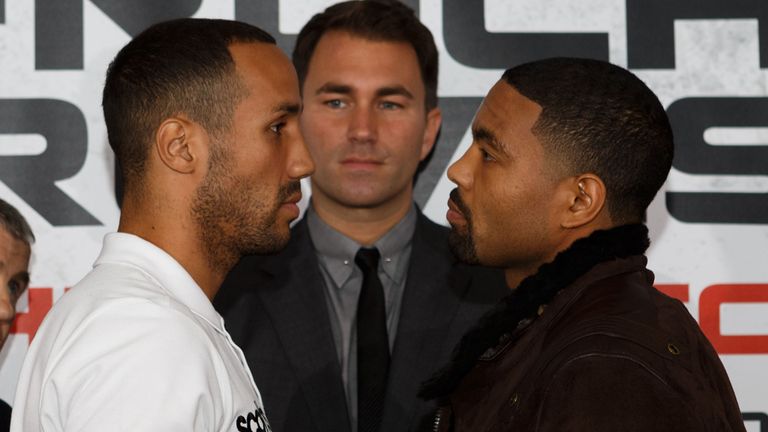 James DeGale might well have the toughest test of the lot on Saturday.
No-one knows too much about Brandon Gonzales but this is a real trade fighter and it's going to be a proper, proper battle. As if that wasn't enough, it's in front of 80,000 fans with a shot at the IBF world title for whoever wins.
Well Gonzales is a very good fighter. He is trained by Virgil Hunter so he works with Andre Ward and he is unbeaten and looks like he's come from the West Coast to do a job. He is going to make it a very awkward night for DeGale.
DeGale has always been a good fighter but now he has that stability and self-belief that has been missing.
Johnny Nelson
There is one thing that has surprised me, though, and that's the fact that the Americans came all that way on Tuesday, when we were told he'd been here for two weeks. That to me is a bit silly and doesn't make sense to me.
That struck me as a rare oversight from Hunter but then again is that surpreme confidence that jet lag won't be a problem or is he superhuman? That is the thing that has puzzled me. If I knew I had a guy who could come over and win, I'd be here two weeks at least, gearing up to it and getting acclimatised, not just getting here five days out.
But Gonzales is tough and he does look hungry and from what we've heard already he wants to drag DeGale into the dark waters and go the distance. Well if they don't think James can handle 12 rounds they have got that wrong too.
Experience
James DeGale has gone the distance four times since the George Groves loss and he has taken on people that no-one else wanted to fight, never mind where they took place! He has beaten real handfuls when he really got nothing out of them in terms of benefitting himself or setting up a big fight next, but the one thing he has picked up is experience.
I am expecting to see a step up from the last James DeGale the Brtish public saw. He has always been a good fighter but now he has that stability and that self-belief that has been missing. He is also fighting on the undercard - with the chance to fight the guy he hates more than anything in the world, George Groves. So it is all there for him.
James has to stay focussed and, having seen him this week, he looks like he is ready and, even if it does go the distance, he will come through.
Gonzales is going to try and drag him into a long night and that means it's not going to be pretty but DeGale has improved a hell of a lot since he lost to his nemisis and he is under-rated when it comes to fighting up close.
It would not come as a complete shock if Gonzales got the nod but the fact DeGale knows he has to put on a performance just to win, I think we will see the best of him. He will take this on points - and really earn it too.
Book Froch v Groves II: Unfinished Business now, online at skysports.com/frochgroves2, via your remote or via your telephone on 08442 410888.