Kell Brook will fight Amir Khan and could even be on Floyd Mayweather's list, says Jim Watt
Jim Watt says a terrific performance creates a fantastic future...
By Jim Watt
Last Updated: 02/10/14 12:44pm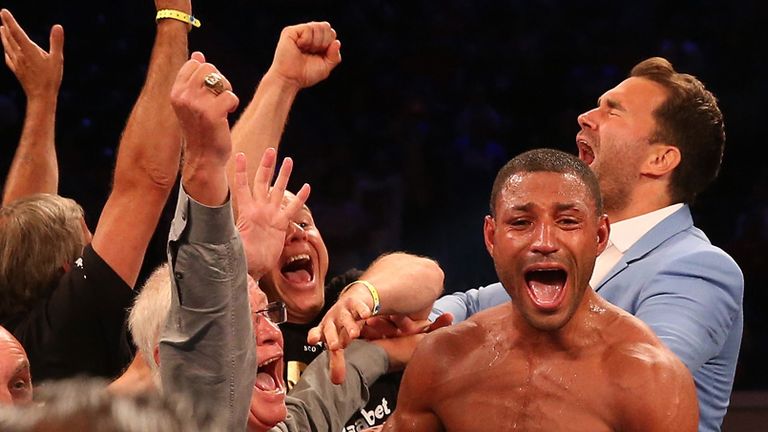 Watching Kell Brook win that world title at last was terrific.
Regardless of what you thought of the scoring, whichever way you expected the decision to go, it was brilliant to see a British fighter do what we knew he had to do, but had been waiting to see if he could do just that.
In California there was a lot of talk about Porter fighting Mayweather next and Khan was on the list as well. All of a sudden Kell Brook is up there, too.
Jim Watt
He showed us all he is now world-class, taking that mantle, not just the IBF title, away from the previously unbeaten Shawn Porter.
I thought in the early part of the fight Porter was dominating with his power and strength. He just put it on Kell and harassed him all over the ring, but to his immense credit he kept his cool and didn't get rattled at any point. His defence is often overlooked, but we saw it on Saturday.
Porter was doing what he pretty much did against Devon Alexander but the one thing that stood out was Kell's composure. He kept his calm, he did not get drawn into a fight but just pinged the odd single shot back - and while that was not the Kell Brook we all know, it was what was needed.
It kept him right in the game and let's be honest, those single shots seemed to impress two of the judges at least!
Had Kell tried to fire back he would've run out of gas and would not have been able to turn it around the way he did in the second half. It was sensible tactics. It was an untidy fight at times but it was a terrific fight - and really good to watch.
You have to give immense credit his team, not least Dominic Ingle. Yes there was a gameplan in place but did Kell stick to it? Every single step of the way. At no stage can you recall him getting involved, going toe-to-toe. It was far and away the most disciplined performance we have seen from him. It was fantastic.
The other big thing was the way Kell paced himself. He was under so much pressure early on that it must've been hard, but again we saw a side of Kell Brook we knew he would need, but weren't sure he had. Well, we now know he belongs in that world-class level.
As for the result, I had it as a close fight and David Parris' 114-114 scorecard was the only one that reflected just how hard, how tough and how close it was. I don't think anyone would've complained had the decision gone Porter's way and there weren't that many Americans complaining about the actual decision of the night.
Courage
A lot of people saw it the same way as me because when the scores of 117-111 and then 116-112 were read out, we thought it was going to Porter - not just because of home advantage but because he was busier. But thankfully I was wrong; I was really surprised but even more pleased to see it!
I see Porter's father was moaning about the holding and yes, Kell did plenty of that, but by the same token Porter was using his head more than him, and given the strength he was showing in the opening rounds the challenger did exactly the right thing - he held himself together.
I was so impressed with the way Kell wasn't pushed out of the way he wanted to box. He wasn't taken away from his plan, whatever Porter threw at him.
We saw his courage in that first fight with Carson Jones but wondered whether he ever wanted to do that again, never mind manage it at the elite level. It wasn't as bad as that particular fight but still he didn't flinch, he stuck to it and made the plan work.
I don't know what will happen next. The good thing for Kell is he was the number one contender for that IBF belt so that means he will not have a mandatory chasing him down, which has given him a bit of grace.
Personally I am not sure his first defence should be against Amir Khan, but it could well be. That will happen but right now it depends on whether the promoters want it indoors or outdoors. It is the wrong time of year for an open-air fight so if they want to go that way, next spring is the earliest.
Rematch
Matchroom will gauge the interest before making a decision, I'm sure. It is not quite Froch-Groves yet but it is something we are all going to keep our eye on. What makes it more intriguing is the fact that both Brook and Khan are on a high, so why not do it next? Amir put in a brilliant performance against Luis Collazo and Kell is the new world champion so it will sell.
But after what Brook has done, there is another name that I will throw into the mix... Floyd Mayweather. Out in California there was a lot of talk about Porter fighting him next and Amir was on the list too, so all of a sudden Kell Brook is up there with them.
Yes Mayweather is tied up with that rematch with Marcos Maidana for now, so perhaps if they can get Khan early - and if they can beat him - then maybe they are on his radar for next spring.
The best thing about all of this is not only has he become a world chamion at last, but the sky is the limit for Kell Brook right now.