David Haye needs Tony Bellew because Anthony Joshua dream is 'dead', says Eddie Hearn
By Andy Scott & James Dielhenn
Last Updated: 28/03/17 4:10pm
David Haye's career can only progress if he avenges his recent defeat to Tony Bellew in a rematch, insists promoter Eddie Hearn.
Haye's bold aim of eventually challenging for Anthony Joshua's world heavyweight title went up in smoke after a stoppage defeat to Bellew last month and, after recuperating a serious Achilles injury, he has already spoken of a rematch.
AJ and Haye is completely dead at the moment. The only fight for Haye is Tony Bellew.
Eddie Hearn
"Never say never, especially in the heavyweight division," Bellew's promoter Hearn exclusively told Sky Sports.
"AJ and Haye is completely dead at the moment. The only fight for Haye is Tony Bellew.
"I have listened to his social media stuff, he's got aspirations of challenging for the world heavyweight title. I think he's good enough to go on and do that, but he just got stopped by Bellew. Injury or no injury, whatever, he lost the fight.
"The only fight for Haye is Bellew. Bellew has five or six options. We understand the demand for Haye-Bellew II and it's certainly something that we would look at."
Hearn insists that, after Bellew agreed to Haye's demands to arrange their first fight, negotiations for a rematch could prove problematic.
"Don't forget in that first fight, Bellew had to agree to a lot of things that he didn't want to, in order to get the opportunity, so that's probably going to be the biggest stumbling block," Hearn said.
"That seed is in his mind now, that now he gets those pluses out of the fight. But Tony understands it's a big fight. Tony has really built his career on having fights that the public want to see, so he's more than willing to do that next.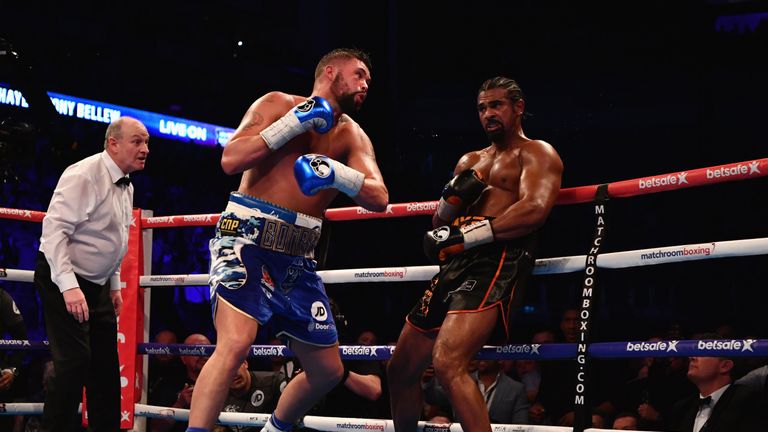 "He does talk about retiring, but I'm going to dangle so many fishes in front of him that I think that's impossible. [I expect] a shot at the world heavyweight title, or the David Haye rematch."
WBC cruiserweight champion Bellew dismissed the prospect of facing Dillian Whyte next, but has been more positive about extending his heavyweight adventure against WBC champion Deontay Wilder or WBO holder Joseph Parker.
Sky customers can now upgrade to Sky Sports and get 12 months for just £18 per month. Upgrade now!