Joshua vs Klitschko: Anthony Joshua's confidence in contrast with Wladimir Klitschko's obsession
The innocence of youth challenged by the wisdom of experience
By James Dielhenn
Last Updated: 21/04/17 11:32am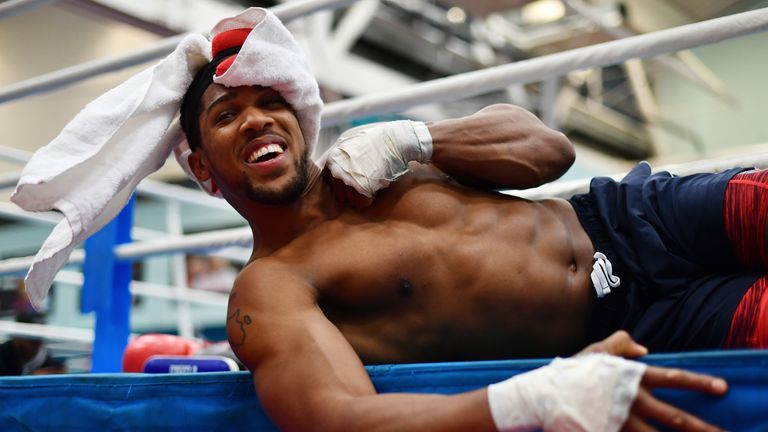 Anthony Joshua flung open the doors to his Sheffield training facility this week to offer a glimpse of his preparation to fight Wladimir Klitschko. Sky Sports questions if it's better to be confident like the champion, or obsessed like his challenger…
Anthony Joshua's laughter boomed louder than you might have expected for someone who is little over a week away from the most significant boxing match on these shores in a generation. Mutual admiration with Wladimir Klitschko has, in recent weeks, been interspersed with subtle jibing from both corners, yet Joshua remains as relaxed as he was when he first walked into the home of GB Boxing as a novice.
Klitschko, 41-years-young and one victory away from joining Muhammad Ali as a three-time world heavyweight champion, insists he is "obsessed" with overthrowing his younger opponent but Joshua believes his rival's emotion is a by-product of four career defeats.
Joshua has lost before, as he is swift to recall, but never as a professional which he regards as a wholly different entity to his amateur career. The confidence amassed over 18 pro victories and a world championship, on the back of an Olympic gold medal, means that Joshua cannot relate to Klitschko's "obsession" to correct the flaws that resulted in the concession of his titles to Tyson Fury 17 months ago.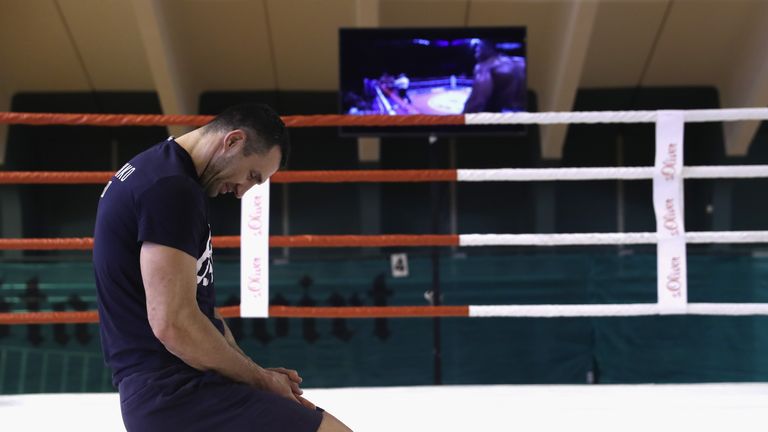 What Joshua effectively brings to the table is a blissful ignorance of his own limitations, pitted against Klitschko's stark awareness of his own vulnerabilities.
It will be a toxic cocktail for one man; Joshua, brimming with the overzealousness of an athlete with a spotless record, could be inspired to steam through his 19th opponent. But Klitschko, remembering too well what defeat tastes like, might be better equipped than ever to avoid another loss.
"I honestly asked myself 'do I really like what I do?'" Klitschko has admitted. "And I said 'no Wlad, I actually love what I do'."
Soul-searching might enable Klitschko to re-find his younger self in next weekend's fight, but it hasn't been necessary for Joshua. An afternoon alongside the IBF heavyweight champion at Sheffield's Institute of Sport was a clear indicator that the 27-year-old has never been more at peace, and has never been more of a superstar.
The clicking of cameras signalled his arrival into the gym utilised by Team GB's boxing hopefuls. Joshua's picture from 2012, draped in a gold medal, is next to the door as you arrive. He is the gold standard but alongside his peers, the majority of whom are just beginning their journeys, he is just Anthony.
A gaggle of up-and-comers laugh hysterically as Joshua is photographed maniacally while putting on his boots, and wrapping his hands. "How will he tie his shoe-laces?" By now, Joshua is used to the attention and revels in a spotlight that is his alone to enjoy.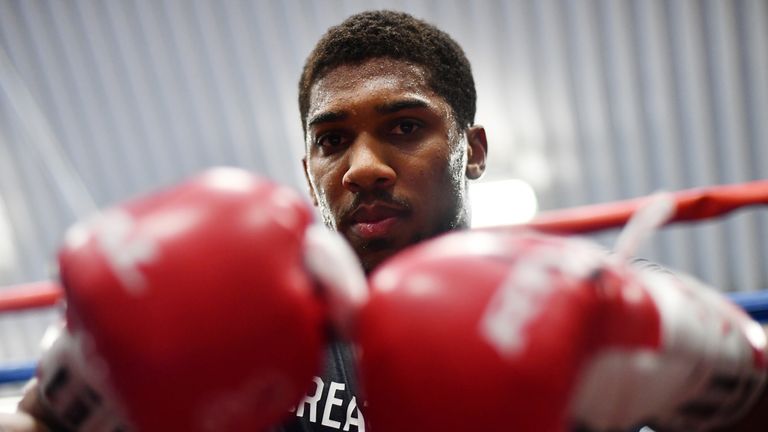 The ear-to-ear smile is briefly replaced by a snarl when he smashes the punching bag, but even during his exercises he flirts with the surrounding cameras that haven't stopped clicking. Ten days to go, his confidence is supreme.
But there is a beast in the mountains, in mainland Europe, plotting his demise. Klitschko's smile has been through gritted teeth, rather than of the beaming variety like Joshua's. The challenger is obsessed, and that might be the antidote to the champion's confidence.
Watch Anthony Joshua vs Wladimir Klitschko at Wembley Stadium on April 29, live on Sky Sports Box Office. Book the event online here or via your Sky remote.