Boxing Expert & Columnist
Zeuge vs Smith: Johnny Nelson says Paul Smith felt his age in points defeat to Tyron Zeuge
Last Updated: 18/06/17 7:43pm
Sky Sports expert Johnny Nelson believes age has finally taken its toll on Paul Smith after a points defeat to Tyron Zeuge in their WBA title fight.
The Liverpudlian was unable to win a world title at the third attempt, suffering a 12th round knockdown as Zeuge retained his WBA 'regular' super-middleweight title with a unanimous decision victory in Germany.
Smith was only able to land his right hand sparingly over the 12 rounds and Sky Sports expert Nelson says the 34-year-old was unable to physically match the 25-year-old champion.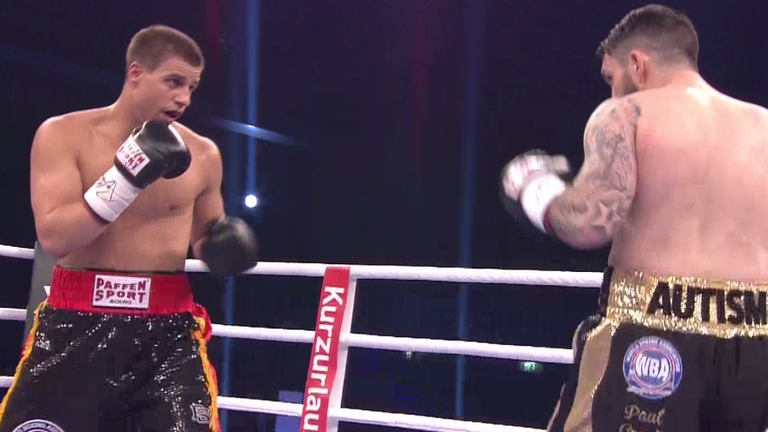 "It was an age thing, fair and simple," said Nelson. "I think he was chasing the fight all the way through. Paul's reactions to Zeuge's shots weren't sharp enough for him to be able to compete and make Zeuge worried.
"Paul's simple shots were jabs or big right hands, which he caught him once or twice whereas Zeuge could get a couple of combinations off and start to show a bit of variety, so it showed he was comfortable with the pace that he was set.
"It didn't matter if he was more skilled than Paul, he had the youth, he had the pace and that was the telling key here."
The former British champion had fallen short before at the top level before, enduring points losses to Arthur Abraham in WBO title fights, but Nelson insists he could have performed better against Zeuge if the fight had come earlier in his career.
"Yes, I do and that's why most people were saying this was Paul's best chance," said Nelson.
"You're thinking of the old Paul Smith. What he is capable of doing. If he can turn back time for one night, this was the night."