Brook vs Rabchenko: Gavin McDonnell says Gamal Yafai stands in the way of world title ambitions
By Richard Damerell
Last Updated: 01/03/18 9:58am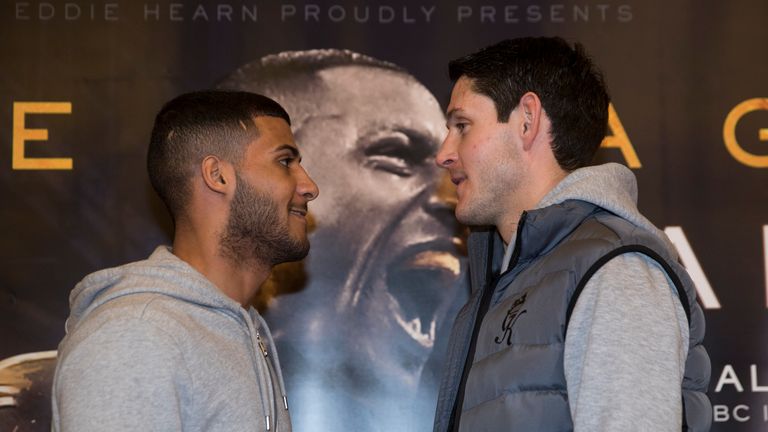 Gavin McDonnell believes he became a "forgotten" man in British boxing, but hopes victory over Gamal Yafai will earn another opportunity at world title level.
The Doncaster super-bantamweight suffered his first professional defeat last January while challenging Rey Vargas for the WBC belt and can climb back up the rankings by defeating Yafai this Saturday, live on Sky Sports.
McDonnell stayed busy with two bouts, although he knows a meaningful victory over the unbeaten Birmingham man on the Kell Brook undercard in Sheffield is essential to keep alive his world title ambitions.
"It's massively important, because it means I'm back in the big fights," McDonnell told Sky Sports. "I had a bit of an off year last year, I got a bit forgot about. I had my world title shot, and then I had a couple of six-rounders, which I've not really had before. I'm used to being in the big fights.
"I felt like I got a bit forgotten about and this fight is a big domestic fight, and it puts me right back up there. A good win here will just set me up then for a big 2018 where we can then push on towards another crack at a world title."
Vargas has only lost a handful of rounds in his two title defences since the fight with McDonnell, who would welcome a rematch with the Mexican.
"I did everything I possibly could in camp, and in the fight," said the 31-year-old. "You've just got to hold your hands up sometimes when you get beat by the better man.
"He beat me fair and square on the night, and he's gone on and proved that he's a quality world champion.
"I put it to bed quite soon, because when you're getting beat for a world title, there's no shame in being beat by the best and he's gone on and beat another couple of good kids.
Wrapped my camp up earlier with a nice little sharpener. I'm ready to go snatch that title Saturday night, in fantastic shape and looking forward to putting a big performance in showing everyone why I'm no1 #andthenew #teammac

— Gavin Mcdonnell (@bigtwinnygav) February 28, 2018
"I think my fight is probably his hardest fight, but a loss is a loss at the end of the day. Hopefully we can get a rematch somewhere down the line, but I'm just focusing on Gamal Yafai."
McDonnell gradually worked his way up from domestic class to the top of the division, while Yafai has been moved quickly over 14 fights, and the Yorkshireman intends to prove the gulf in experience.
The former British and European champion said: "I've been there, done it, and I know I'm capable of mixing it at world level and that's what I take the confidence out of knowing I'm a level above Gamal.
I know I'm a level above Gamal. I've just got to turn up on fight night and prove it.
Gavin McDonnell
"You can't buy experience. I've got that on my side, I've got the experience, I've been in the big fights and I've been there and done it at every level.
"Area level, British level, European level. I've won and defended every title against good, unbeaten fighters.
"I've passed all of those tests. I just failed at the world title. I know I'm a level above Gamal. I've just got to turn up on fight night and prove it."