Brook targets world title
Kell Brook plans to move up to world level after signing a new promotional deal that will see him fight regularly on Sky Sports.
Last Updated: 08/04/11 2:14pm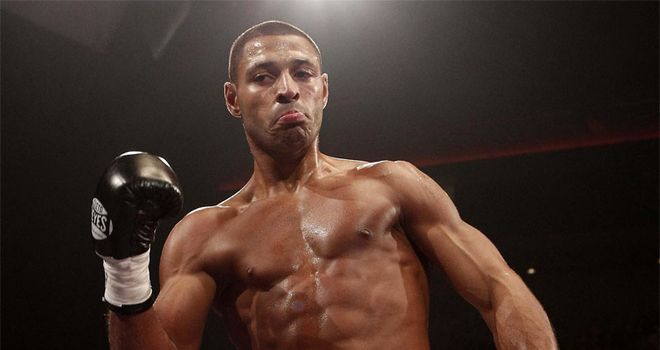 Sky Sports viewers can look forward to seeing more of Kell Brook on their screens after the unbeaten Welterweight signed a promotional deal with Matchroom Sport.
The 2009 Young British Boxer of the Year is now looking forward to headlining Saturday Fight Night shows and his first fight with his new promoters is likely to be in Sheffield in June.
'Special K' holds both the British and WBO Inter-Continental titles and after stopping Philip Kotey in the second round in Liverpool last December he says he's chomping at the bit to get back in the ring
"We've got a date in June in mind and it'll be in Sheffield," said Brook.
"We need to work out an opponent but it's great to have a fight lined-up and be topping bills live on Sky Sports in front on my home fans.
"I think I'm a couple of fights from a world title. I'm 25 at the start of May and mentally and physically I'm ready for it. It's just a matter of getting the right fights and sitting down with the team and planning how we're going to get there - but we are going to get there."
Brook has been linked with bouts against Matthew Hatton and Amir Khan, and while he is focusing on that June date first, he admitted both fights would be great for the fans.
"Matthew and I getting it on in Sheffield would be great," said Brook.
"His fans could come over from Manchester and with Ricky involved to it would just be a huge occasion. Matthew gave a good account of himself against Saul Alvarez and he's a big name out there now, and with me being the hot prospect, that's a great mix for a big fight.
"Fighting Amir would be an incredible night. If that fight could happen, ideally with us both World Champions, it would be a huge night that would put British boxing on the world stage and that's what we need here and what the fans crave.
"It's not about being on pay-per-view for me as not all the fans get to see it - you are excluding people from watching huge nights. I want to be winning headlining Saturday Fight Night shows regularly and I'll be the name on the lips of both the hardcore fight fans and the more casual boxing fans too."
Decision
Brook says a meeting with Matchroom Sport's managing director Eddie Hearn at the last Prizefighter Super-Middleweights event in March prompted his decision to join the company.
And he says Hearn will give him the attention he needs to progress his career.
"I'm really buzzing about joining Matchroom," said Brook. "I met Eddie at Prizefighter and we just got on like a house on fire. His thoughts and plans on my future were exactly what I wanted to hear.
"The personal relationship is so important to me because at the end of the day, this is my life. I need to make sure I'm getting the best treatment and I think I'll get that with Matchroom Sport. Eddie is passionate about boxing and he wants the best for me so we're on the same wavelength which is perfect.
"Eddie and I have a good chemistry and when he came to Sheffield to see me and my Dad we all connected during a meeting and it's grown from that."
Stable
Brook joins 'Dazzling' Darren Barker as a new addition to Matchroom Sport's boxing stable, with Barker making his bow in a European Middleweight title fight in London on April 30.
And with the likes of Paul McCloskey and Gavin Rees on the same roster, Hearn feels he can provide Sky Sports viewers with great value for money.
"I am so excited about adding Kell to our stable," said Hearn. "There was never a strategy to start signing fighters but when someone like Kell comes along, there is no way I was going to pass up this opportunity.
"Kell oozes class and has that something special about him - in short he is going to be a superstar. Even in the last 24 hours we have started making big moves for Kell and the plan is to have a high profile defence in June before challenging for the world title later this year.
"We have an obligation to provide Sky Sports with top quality fighters in top quality fights and I'm delighted that fight fans will get the opportunity to watch the likes of Kell Brook and Darren Barker free to air on Saturday Night Fight nights."