Vitali still hunting Haye
Vitali Klitschko called David Haye out again, minutes after demolishing Tomasz Adamek to retain his WBC crown.
Last Updated: 11/09/11 1:07pm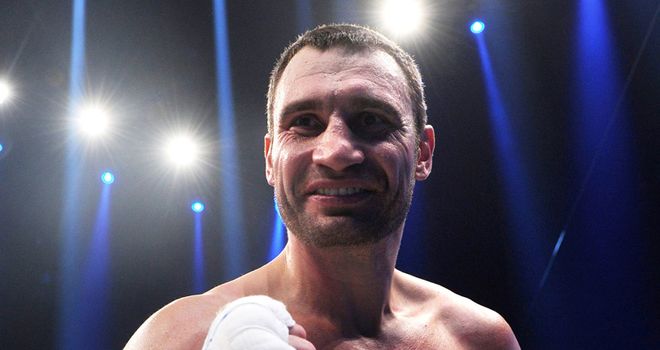 Vitali Klitschko has again told the world he wants to shut David Haye up once and for all.
The WBC heavyweight champion made his latest attempt to get the Briton back in the ring minutes after demolishing Tomasz Adamek in 10 one-sided rounds in Poland.
Klitschko was never really tested by the dogged but diminutive Pole and took little time in turning his attentions to the man his younger brother Wladimir beat in May, but failed to knock out.
Haye this week said he is willing to delay is retirement - scheduled for his 31st birthday on October 13th - by six months if he can get a rematch, or better still take on the elder of the Ukrainian siblings.
He says he has spoken to Lennox Lewis about fighting - and beating - Vitali, who was happy to open the door and even revealed he would be willing to come to Britain to settle the family score.
"David Haye is world famous, not from boxing skills but from his long tongue," he told Sky Sports.
"He is the world's biggest trash-talker and that's why everybody knows him. He touched me and my brother personally and I want to knock him out. I'm serious. I want to knock David Haye out - I can do that.
"It would be a great to fight in Great Britain. I know I have great support in Britain and I want to thank everybody there for watching this fight.
"I know they like the Klitschko brothers and we have good support there. I would like to fight there again - at Wembley Stadium. That is another dream."
Mistakes
Klitschko also revealed he is unlikely to retire just yet.
His dominant display against Adamek was the first time he has fought since turning 40 and left him in sight of the oldest man to win a world heavyweight title, George Foreman, who did it when he was 45.
The Ukrainian dimissed the idea of carrying on for another five years but warned any further pretenders to his heavyweight throne, that he has no plans to turn his back on boxing just yet.
"I don't want to break George Foreman's record, I'm sure!" he said. "But I don't know how many more fights I will make - it might be two, or three, it might be five,
"I'm much better than I was 10 years ago because right now I know what I have to do. I make less mistakes."