Crolla keen to follow Hatton
Anthony Crolla wants to beat Willie Limond and emulate fellow Mancunian Ricky Hatton in bringing big fights to his home city.
Last Updated: 15/11/11 6:29pm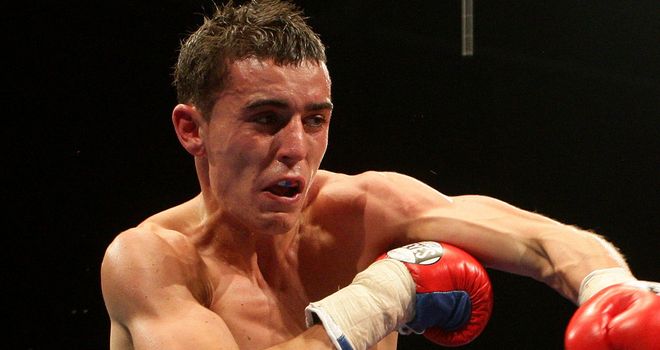 Anthony Crolla hopes victory over Willie Limond will further boost his credentials as a Manchester boxer capable of filling the void left by Ricky Hatton's retirement.
The British lightweight champion has enjoyed a taste of the limelight since taking the title in February with a ninth-round stoppage of John Watson.
And Crolla, who turns 25 on Wednesday, has no intention of giving that up in his first defence against experienced Scot Limond on November 25.
Crolla, who is promoted by Hatton, is defending his title in Motherwell but is keen to bring big title fights to his home city in future - just as the former world champion did.
Fellow Mancunian Matthew Hall joins Crolla on the bill as he in turn fights Kris Carslaw in a British light-middleweight title eliminator.
Crolla said: "Since Ricky has retired, there has been a bit of a gap in Manchester.
"There are a few up-and-coming fighters in Manchester and I'm just blessed to be a part of that. I want that to continue, I want to keep my name out there.
"No-one else brought the crowds like Ricky did. Every time Ricky fought in Manchester, the MEN was rocking.
"It's one of our aims, the upcoming fighters in Manchester, to have it the same way. The way he brought the crowds in was something else."
Confident
Winning the British title has already changed Crolla's life personally and professionally.
"I believe the saying that once a fighter wins a title he improves a good percentage," he said. "I feel that way, I'm a lot more confident and believe in myself a helluva lot more now, and my training has improved.
"I get recognised a lot more now. It's nice, I like it when people recognise you, it makes you feel good about yourself.
"I'm also happy for my friends and family, the people who have been with me from day one. That's my aim on November 25, I don't want to lose all that."
Pressure
Crolla has no problems taking on Glasgow fighter Limond in Scotland having beaten Watson in his home city and also edged Juan Montiel on points in a non-title fight in Las Vegas in September.
He added: "It's something that I thrive on. I feel like there is pressure on me going into someone's backyard. As an amateur I always performed better away from home as well.
"I've got a few fans coming up, a coachload, so I'll have a bit of support there as well.
"The England-Scotland thing is there so that might add a bit of spice."