Hatton backing for Murray
Martin Murray looked in great shape at the weigh-in
Last Updated: 02/12/11 4:15pm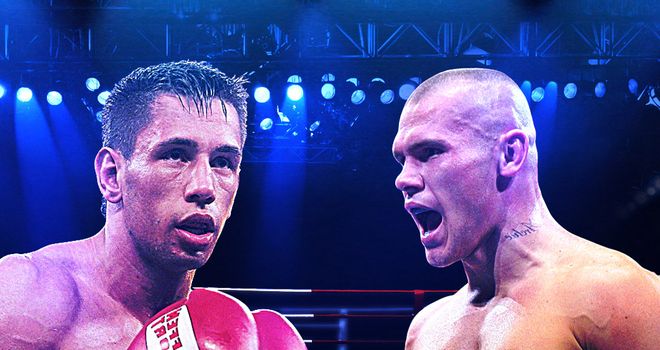 Martin Murray looked in great shape as he came face-to-face with champion Felix Sturm at Thursday's weigh-in.
The pair will battle it out for Sturm's WBA middleweight title in Mannheim, Germany on Friday night with most judges expecting St Helens' Murray to struggle.
The unbeaten 29-year-old has been operating at a lower level than his rival, who has held the belt for more than four years, but promoter Ricky Hatton believes the time is right Murray prove himself at the top level.
"I feel Martin Murray can become my first world champion," he said.
"Apart from his obvious talent he's in his prime, hungry, fresh with very few miles on the clock. This is the right fight at the right time."
Sturm tipped the scales a shade under the 160lb limit, while Murray weighed-in at 159lb.
Tough opponent
"I think what's important is what happens tomorrow in the ring," Sturm later told Sky Sports News. "He's a tough opponent, he's strong, he's smart. He's got a title shot, he'll give his best."
Murray said: "That's the first hurdle done now. I can put all my attention now into carb-ing up and getting ready for the fight."
Of the challenger, Hatton added: "He's got a wonderful chance. Like I keep saying, he's got no miles of the clock, he's young, he's fresh - he really, really wants it.
"It might be a case of the right fight at the right time. I think myself, (trainer) Oliver (Harrison) and the whole team have said nothing other than he is an underdog and it is going to be a tough test. But I would be a liar if I didn't think he can do it."