Lamont hopes to time it right
Lamont Peterson says his timing will beat Amir Khan's speed on December 10.
By Graham Shaw
Last Updated: 02/12/11 12:07pm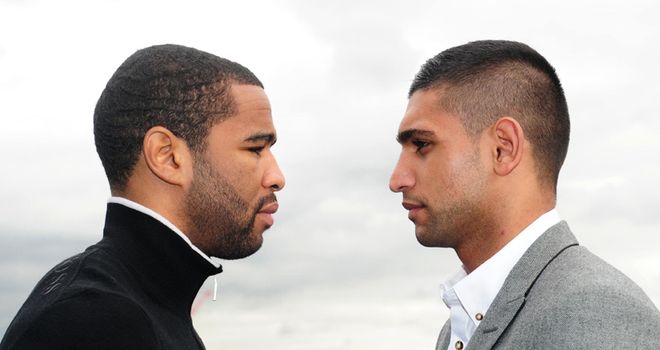 Lamont Peterson believes his timing will beat Amir Khan's speed when they meet inside the ring on December 10.
British superstar Khan puts his WBA and IBF light-welterweight straps on the line against hometown favourite Peterson in Washington DC, live on Sky Sports.
And he'll start a prohibitive favourite after bouncing back from that stunning Breidis Prescott loss back in 2008 to elite level under the expert tutelage of Freddie Roach.
Khan's blazing speed has proved too much for a string of top fighters in the past three years, but Peterson (29-1-1) says he has the perfect antidote - timing.
He said: That's the thing about me. I'm a timing type of fighter. I don't, a lot of times, throw a lot of fast punches, but my hands are just as fast as his. I won't compare to say who's the faster, but fast enough to say, "Okay, there's no speed advantage."
"The thing is he throws a lot of punches and he throws them in bunches, but his punches seem fast and they are fast, but I'm just as fast. Timing beats speed all day. So, it's nothing to worry about his speed.
"To me, the perfect example is when Pacquiao fought Marquez recently. Marquez was really, really, really slow. But for some reason, he was landing his shots that he wanted to land and that just goes to show you that timing is everything. Sometimes you can go too fast and miss your mark a lot and sometimes you just need to slow it down and place your shot. That's the best way.
"I'm not trying to go in an all-out sprint race with Amir. I'm just going to be me and do what I need to do and do the things that me and my coach worked on in the gym and stick with the game plan."
Peterson's trainer Barry Hunter believes his man is coming into his prime at the age of 27, and has what it takes to cause a big upset.
"As far as Lamont's progression is concerned, in the Tim Bradley fight (Peterson's only pro defeat), definitely I've seen a lot of growth since that fight," said Hunter.
"A lot of times, you go out there and you think you're ready, but in essence you're not. Skill-wise, I'd put Lamont up against any fighter on the planet and be comfortable with it. But, it's not the skills that actually get you to these fights.
"For the most part, the strongest tool that you have in the fight is your brain and your ability to think and comprehend."
While Peterson is very much the underdog inside the ropes, his trainer takes on a similar role in the corner - going up against superstar corner man Roach.
"As far as Freddie is concerned and any other trainer that's being a superstar trainer or what have you, I never tend to look at people, or shall I say their status as far as being a stars, because first of all, you can never be bigger than the sport," Hunter said.
"The sport is always greater than you, number one. Number two, I never see superstars. I see people.
"Out of the 32 years that I've been training fighters, I never had a fighter that was pretty much already made. For the most part, this is not a knock on Freddie; but for the most part, every fighter that I've ever had that had gotten into be it the Nationals or Olympic trials or world title fights, and there have been many, came from the ground-up for the most part.
"So I'm very, very comfortable with going into a fight not just against Freddie, with whomever. I've been in there against Emanuel Steward. I've been in there against the Mayweathers; now, there's Buddy, Buddy McGirt. So, I'm very, very comfortable with what it is that we do because I know the preparation that we have to do through headed towards a fight."