Vitali - Chisora better than Haye
Vitali Klitschko believes Dereck Chisora will put up a better fight against him than David Haye managed against his brother Wladimir.
Last Updated: 16/02/12 3:31pm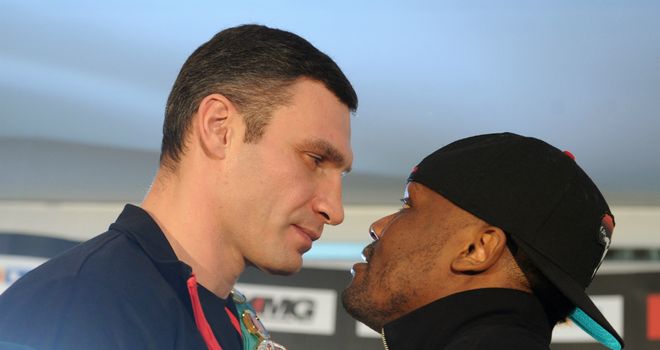 Vitali Klitschko believes Dereck Chisora will put up a better fight against him on Saturday than David Haye managed against his brother Wladimir last summer.
Haye's feud with the dominant Klitschko siblings appears no closer to a conclusion with Vitali admitting they are "miles apart" in negotiations to meet in the ring.
The Briton has already squandered one opportunity, losing his WBA heavyweight title ignominiously to IBF/WBO champion Wladimir in Hamburg last July.
This weekend, Haye's fellow Londoner Chisora attempts to snatch Vitali's WBC belt at Munich's Olympiahalle.
Few give Chisora, 28, much of a chance, but Klitschko has been quick to talk up his challenger's credentials and backed the Zimbabwe-born Briton to at least put up a decent fight.
Ran away
"David Haye didn't want to fight," said the veteran. "He just kept running away from my brother. He didn't come in to fight.
"I expect a better fight from Dereck Chisora. He's actually fighter. He wants to go in and fight and to go the distance. He tries to challenge his opponent and I didn't see that in the last fight between David Haye and Wladimir Klitschko.
"Dereck Chisora is more aggressive than David Haye."
Despite officially retiring in October, Haye is ready to fight again if a deal can be done to face Vitali, 40, or secure a rematch with his 35-year-old brother.
On-off talks have been going on for months but there is no light at the end of the tunnel.
"David Haye is so unpredictable and we tried to make a deal and I hope the fight comes through, but right now we are miles apart from agreeing the contract," Klitschko admitted.
"Right now I don't want to talk about it. I am focused totally on the Chisora fight and I hope that after Dereck Chisora, David Haye changes his mind and I can give a chance to David Haye to fight for a world title."
Klitschko has made no secret of his desire to go one better than his brother by knocking Haye out, such is the dislike they hold for the Englishman, and hopes that ambition can still be realised.
"I keep saying to David Haye, 'please fight me'," he said. "I say 'please fight for the world title; it's the most prestigious title in the world'.
"If he doesn't want to do that, it's okay. David Haye always tries to find excuses why fights do not happen. I hope David Haye one day makes a decision to fight me.
"Right now, I'm totally focused on the Dereck Chisora fight."
Entertainment
While outspoken Briton Chisora (15-2, 9KOs) is happy to boldly predict an eighth-round knockout, Vitali (43-2, 40KOs) remains eager to maintain diplomacy.
The part-time politician does expect an entertaining night for fans, however.
"This is sport. I can honestly say no one in the world knows in advance what will happen, especially in boxing where everything can change with one shot," he said.
"Chisora can hit, and I do too. So I don't see it going 12 rounds.
"We can't say now who will win, but I'll do my best to prove that it's no coincidence that I hold the same title that many years ago was held by Muhammad Ali.
"I'm proud of that, and I'll give everything to make sure I do not let my title go to Chisora.
"I'll do everything to win but not just win, win impressively."