Froch close to Bute deal
Carl Froch has confirmed that he is close to securing another world title shot against Lucien Bute.
Last Updated: 16/02/12 5:15pm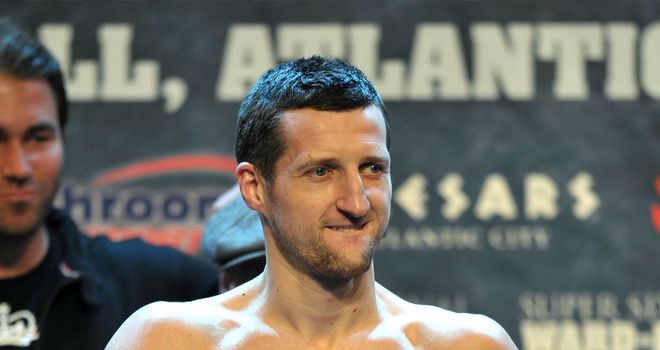 Carl Froch has confirmed that he is close to securing another world title shot against Lucien Bute.
The Briton was recently made mandatory challenger to the IBF super-middleweight champion, who was the only one in the 168lb division not to take part in the World Super Six Series.
Froch lost his WBC strap in a unification with Andre Ward in the final of that drawn-out tournament last year, but remains hungry for success.
A re-match with Mikkel Kessler, the only other man to beat Froch, had been mooted but he has instead been matched with Romanian-born Canadian Bute for a possible double-header, with Bute coming to the UK before a second fight in his adopted homeland.
And Froch is already in training for a potential May return.
"I'm mandatory challenger now so there's no reason why the fight can't happen," he told Sky Sports. "He's recently tweeted that he's happy to come to England so we're going to try and make that happen.
"The two-fight deal is a possible scenario, but we're trying to get a date in May and it will be one of the Saturdays."
Nottingham-born Froch spent much of the Super Six on the road, fighting twice in Atlantic City and once each in Finland and Denmark, and admitted a fight on home soil would great.
Nottingham return
"To fight in the UK now would be a privilege, I've had so many fights away from home. When you've got the crowd behind you it's great, it gives you a lift.
"It would be fantastic to have it in Nottingham - there are loads of great venues in the UK but it would be great to come back to Nottingham.
"I think it will happen, I'm definitely up for the fight. Bute has gone out there publicly saying that he wants to fight.
"I realise that's he's champion so it's down to what he wants in terms of monetary value, so commercially as long as it makes sense to him, the fight will happen in May in the UK.
"Amir Khan is fighting on the 19th (against Lamont Petersen) so I think will either be on the 12th or the 26th."