Warren: Haye threw first punch
Frank Warren has suggested Dereck Chisora was not to blame for the disgraceful scenes following the Londoner's fight with Vitali Klitschko.
By Adam Norman
Last Updated: 19/02/12 3:36pm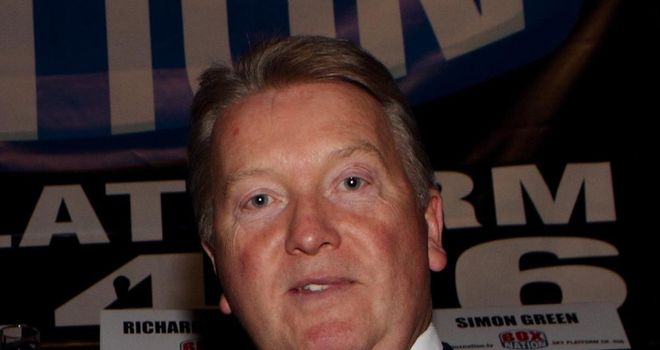 Frank Warren has suggested Dereck Chisora was not to blame for the disgraceful scenes following the Londoner's fight with Vitali Klitschko.
Warren, who co-promoted Saturday's fight in Munich that saw Chisora lose on points, was quick to call the press conference brawl between Chisora and David Haye an 'embarrassment' for the sport.
However, he questioned the appearance of the former WBA heavyweight champion at the post-fight conference and also implied Haye threw the first punch that led to an unseemly brawl which saw Haye's manager Adam Booth finish with blood streaming down his face.
"I've seen a lot of television footage, as have the police, who were with us until 3am at the hotel in the morning," Warren told Sky Sports.
"I'm sure if you see some of the footage and photographs you'll know it wasn't Dereck who actually threw the first punch. Not that I'm condoning or trying to stick up for him - what happened was outrageous and wrong, but he certainly did not throw the first punch.
"Let's get it right - the press conference was for the participants and for everyone involved in the fight on the night. It wasn't a David Haye promotion. David Haye came in and started jabbering off and calling people out.
"Dereck Chisora was there and he should have at least be allowed to have his moment which I felt was well deserved recognition for what he did in the ring, but it was all taken away by what turned out to be an ugly and disgraceful episode."
Warren added that Chisora did himself few favours by fronting up to Haye after earning plenty of respect for his gutsy performance against the longtime WBC champion.
Stupid
"It was an embarrassment to British boxing," he added. "It's not the first time it's happened, but it has happened and it's brought the sport into a bad light which is a great shame for all the fighters who do behave.
"He (Chisora) got off the table with a microphone in his hand, stupidly as it turned out, it was a ridiculous thing that he did, and it took away from what he did in the ring because he fought really well.
"He gave Vitali Klitschko the hardest fight since Lennox Lewis. It's just ridiculous that a guy can get in the ring and do so well and yet outside the ring he gets himself involved in some really horrible situations.
"I'm sure the police in Germany will get to the bottom of it and do the right thing. I'm quite sure he'll be released today and I'm sure he'll come back today.
"We need to let this sink in as to what position he is in, and the reasons for that position, and then we'll deal with it the best we can and decide what his future is if he's got a future in boxing.
"In the ring you can't get more commitment from a fighter."
Asked what he thought to suggestions from some quarters that it was all a publicity stunt, Warren replied: "I would say they were total idiots.
"I'm sure if you think somebody wants to pull a stunt like that and wind up getting hit with a bottle and wind up in a police station while the other guy can't be found...you've just got to be a complete moron to come up with a suggestion like that."