Haye happy to assist authorities
David Haye says he would "happily assist the boxing authorities with any investigation they wish to launch" following the Munich brawl.
Last Updated: 20/02/12 6:36pm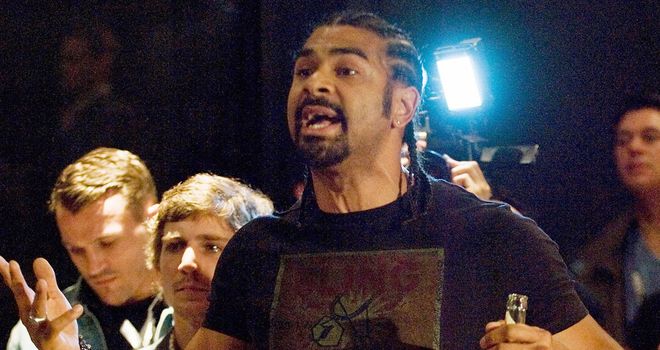 David Haye says he will assist the boxing authorities in their enquiries into the now infamous Munich brawl on Saturday night, but has blamed Dereck Chisora for the fracas.
The British heavyweight duo were involved in an ugly, bloody bust-up following Chisora's points defeat to WBC heavyweight champion Vitali Klitschko.
German police released Chisora without charge and are still hoping to speak to Haye, although the Briton's whereabouts remain unknown.
Haye today released a statement through his promoters in which he promised to co-operate with any investigation which takes place.
He said: "I realise I am no angel - and don't mind a bit of professional trash-talk to help raise boxing's profile - but, during my 21 years in the sport, I have never been involved in, or even witnessed, such a serious fracas.
"If requested, I shall happily assist the boxing authorities with any investigation they wish to launch and, ultimately, hope that all lessons learned from this incident will be implemented."
However, Haye went on to place the blame for the shameful scenes at the door of Chisora who he insisted had instigated the scuffle.
The statement did not specify his whereabouts, but the British fighter claimed he left Munich on Sunday morning due to the threats he had received from Chisora.
"Moments before declaring he wanted to go face-to-face with me, Chisora assured the gathered media that he would give me 'two slaps'. Chisora had, of course, already been shrouded in controversy that weekend," Haye's statement read.
Aggressive manner
"Despite this, Chisora climbed down from the top table, removed his robe and then walked towards me, entourage in tow, in an aggressive manner.
"I held my ground, but, unfortunately, he caused a serious disturbance to occur, something which threatened to damage the reputation of the sport we both love.
"Regrettably, some members of his entourage also encouraged the chaos. Nevertheless, Chisora and I soon separated, brushed ourselves down and moved in opposite directions. The confrontation then reignited, however, and both (Chisora's trainer) Don Charles and (Haye's manager) Adam Booth became involved in the mess. Adam suffered a cut to the head.
"Thankfully, it didn't take long for the ruckus to again settle down. It was then that I heard Chisora say he planned to 'shoot me dead'.
"I decided to leave the venue and return to my hotel, a move which I hoped would defuse the situation. However, Chisora's team were staying at the same hotel as me and, in light of the threats Chisora had made in front of the world's media, it seemed far more appropriate for me and Adam to leave the hotel as quickly as possible.
"Consequently, I left Munich on an earlier flight on Sunday morning and have been thinking about what happened ever since, as well as replaying the incident many times via YouTube. It goes without saying, I am bitterly disappointed to have been a part of what transpired on Saturday evening."
Munich Police spokesman Gottfried Schlicht said: "I don't know whether British police have been contacted yet because that is the job of the court, not the Munich Police.
"We have to ask the court in Munich and the court goes to Scotland Yard or wherever in the UK.
"That is likely to happen but I don't know how long the process will take. My opinion is that it should or will happen as soon as possible but I can't say whether that will take days or weeks. I don't know."
Schlicht admits detectives are at an impasse until Haye is located, adding: "Until we speak to Haye, nothing more can happen.
"We need both sides. We've heard Dereck Chisora and now we wait to hear David Haye."