Vitali out to punish Chisora
Vitali Klitschko says he wants to punish Dereck Chisora for his antics in Munich by knocking him out in a rematch.
Last Updated: 21/02/12 2:01pm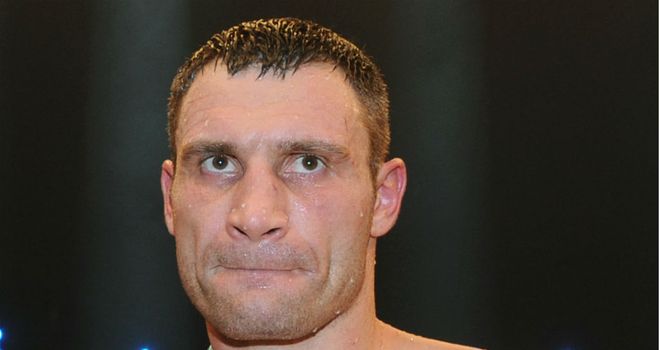 WBC heavyweight champion Vitali Klitschko says he wants to punish Dereck Chisora for his antics in Munich by knocking him out in a rematch.
Chisora was involved in a number of controversial incidents before and after his unanimous points loss to the 40-year-old Ukrainian on Saturday.
The British fighter first slapped Vitali at the weigh-in, then spat water in his brother Wladimir's face in the ring, and was finally involved in an instantly infamous brawl with David Haye at the post-fight press conference.
However, Chisora earned many plaudits for his performance during the bout itself, taking the dominant champion the distance and constantly fighting on the front foot.
And although Klitschko was a clear winner in the end, he has stated he still wants to give Chisora a brutal payback for his actions.
Revenge
"In spirit, I have no need for revenge, but my ego tells me that this man deserves real punishment. I want to knock him out in the ring," he told German newspaper Die Welt.
However, Klitschko's manager Bernd Boente has ruled out the possibility of a rematch, believing that calls for another bout may be his fighter's emotions getting the better of him.
"A rematch is absolutely inconceivable and won't happen," Boente said.
"Of course, Vitali has been affected emotionally, but a fight is not up for discussion and we will not offer Chisora a further platform."
Klitschko was also present at the press conference which produced the chaotic confrontation between Chisora and Haye and admitted he was shocked by what he saw.
Klitschko added: "I saw it all from the stage, I thought I was in some kind of film. Sooner or later in life a man gets his just punishment.
Low
"You can't behave like that as an athlete or as a normal person. This was lower than low, I thought it was a play act and just for show, but then I realised that it wasn't.
"He must be sick in the head, when you think of all he has done.
"The slap in the face, he spat at Wladimir in the ring, then he fought at the press conference and threatened to shoot someone.
"How can anyone behave like that? It's unbelievable, I can't believe it. What is in this guy's head? Everything I have seen of him is just a nightmare."
But Klitschko made it clear that he also has no sympathy for Haye, who claims he agreed a deal to fight the Ukrainian before talks fell apart.
"They are both cut from the same cloth. The same thing applies to him (Haye) as to what I said about Chisora," Klitschko said.