Cleverly vows to be model pro
WBO light-heavyweight champion Nathan Cleverly intends to make headlines for all the right reasons when he faces Tommy Karpency on Saturday.
Last Updated: 21/02/12 6:14pm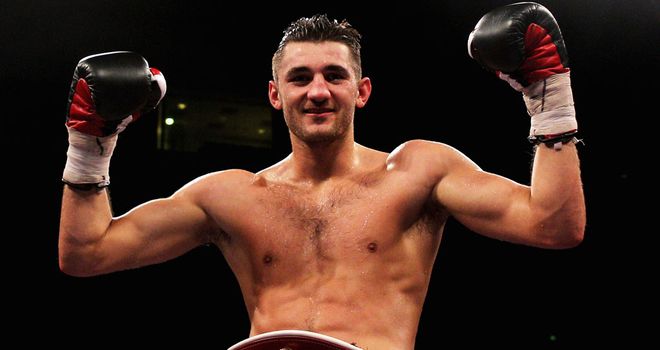 WBO light-heavyweight champion Nathan Cleverly intends to make headlines for all the right reasons when he faces Tommy Karpency on Saturday.
The shocking press conference brawl in Munich between British rivals Dereck Chisora and David Haye - following the former's defeat to WBC heavyweight champion Vitali Klitschko - has seen the sport take a pounding in the past few days.
Chisora, who was arrested by German police before being released after questioning, also slapped Klitschko ahead of the bout and spat water in the face of his brother Wladimir, and faces a British Boxing Board of Control hearing into his behaviour next month.
Controversy
Munich police, meanwhile, remain keen to talk to former WBA heavyweight champion Haye over his role in the incident.
The controversy has cast a cloud over Cleverly's final preparations for his meeting with American Karpency at the Motorpoint Arena in Cardiff on Saturday night.
And the undefeated 25-year-old Welshman says he will continue to conduct himself in a mature, professional fashion ahead of his third title defence.
He said: "People are going to be looking for people to lead by example. I have a chance to do that, conduct myself in a professional manner as always and leave my talking for inside the ring not outside.
"It can be easy to get dragged into a scuffle, but I am pretty sure that is not going to happen, we will have the utmost respect for each other.
"People will be looking for me to carry the sport in a professional manner, which I intend to do. I will be myself and I am sure it will be professional performance.
"Karpency seems to be a good guy, he is a professional fighter, he seems a nice guy so I don't see a clash of personalities that will cause uproar."
Cleverly was himself involved in an explosive press conference with Tony Bellew, where the pair squared up when they were due to meet for the WBO belt last May.
But Cleverly said, unlike events in Germany, he and Bellew were in control of their aggression.
He said: "When you are disciplined it is straightforward (to keep control of your emotions).
"You leave your aggression for the gym and for fight night.
"Sometimes there is a clash, with me and Bellew we were both unbeaten and we both thought we were the best.
"We said things which wound the other up, and it flew off the handle a little bit, but it was controlled aggression and it did not go over the top.
"It created a lot of hype around the fight. I enjoyed it because it was different and I am sure Tony Bellew enjoyed it at times."
Southpaw
Cleverly, fighting on Welsh soil for the first time in four years, is the overwhelming favourite to defeat challenger Karpency, who is also a registered psychiatric nurse, and retain his belt.
The American has lost just two of his 24 professional bouts to date, but has faced very few opponents of genuine class.
But there is no sign of complacency from the champion, and his father and trainer Vince, as they prepare to face the southpaw.
"I expect an awkward opponent, he is a southpaw which can cause problems because of his stance," said Cleverly.
"He is a strong guy, he has operated at cruiserweight and he has lost just two of 24 fights.
"He is American and he is coming over to win. I have prepared well and I am looking forward to putting on a world champion performance."