Peterson doing it for the fans
Lamont Peterson said he was 'doing it for the fans' at a London press conference to publicise his fight against Amir Khan on May 19.
Last Updated: 13/03/12 3:47pm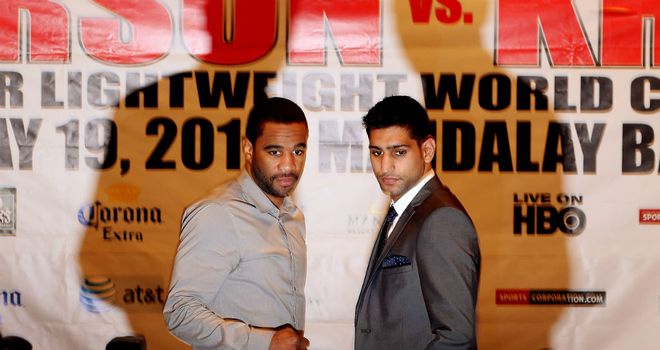 Lamont Peterson said he was 'doing it for the fans' at a London press conference to publicise his fight against Amir Khan on May 19.
The pair will get it on for the second time in six months at the Mandalay Bay in Las Vegas after Peterson took the IBF and WBA light-welterweight titles from the Briton in December.
The win, by split decision, sparked controversy after Khan was docked two points for pushing his opponent, with the former champion initially appealing the decision and questioning the role of an unofficial IBF representative at ringside.
Nonetheless, many believed Peterson earned the narrow win in Washington on merit and it remains to be seen whether Khan can raise his game in what promises to be an intriguing rematch.
Great fight
And Peterson told the media on Tuesday that he didn't feel he had to give Khan a second chance, other than that the fans demanded it after a pulsating first encounter that was a contender for fight of the year.
"Without you all we wouldn't be fighting," Peterson said. "The reason I decided to take the rematch was not because of anything Team Khan said, or that I have to prove myself to anyone.
"We're fighting because you all thought it was a great fight, and you all thought that we should do it again. I'm all for pleasing the fans so that's why I took this fight.
"Team Khan still have problems with what happened in DC, I can only tell them that nothing shady happened but I'm pretty sure they won't take my word on that.
"I just want to say to Team Khan, you have your chance to make things right, and I'm looking forward to a good fight. I'll be training just as hard as you - I've been training since that day we stepped out of that ring.
"So I'll be prepared and ready to die in the ring to keep those titles."
Mistakes
Khan reiterated his belief that he should have been named the winner in December, but said he will train just as hard as ever in a bid to regain the belts.
"We made a few mistakes in the first fight, but I still thought I won it," he said. "It just hurts me watching that fight and what went on, but we both put on a good fight and this next one's going to be even tougher.
"We know what to expect from each other. I know exactly how to deal with it. I've started training early for this fight, just to get back into the gym and back into shape.
"I'm going to meet up with Freddie (Roach) next week in the Wild Card gym and then go to the Philippines for high altitude training, which I've only done once before for the Zab Judah fight.
"I always trained like a challenger, and I want to bring back the titles to Great Britain. You'll see a different Amir Khan this time, I'll be explosive as always.
"Who knows, this next fight can be the best fight of the year. Do not miss this fight, it's going to be as exciting as the last one."
Sparring
Khan went on to elaborate on the mistakes that were made before the last fight.
"We think we made a few mistakes in making the weight, which is a major part of boxing, you need to be very professional about how you make the weight," he told Sky Sports.
"And also we had some good sparring partners, but I think we can do better. I spoke to Freddie Roach over the weekend and he said he's found some new sparring partners.
"I'm going to be training at high altitude, away from all distractions, and we now know exactly what to expect from Lamont Peterson. He comes forward, he's aggressive, and we need to be on the A game.
"I'm going to come into this fight a lot different. I'm going to be a lot stronger, and I do believe I will knock Lamont Peterson out.
"I can't wait to get in the ring and prove to the world that I won the first time, win this time and prove I am the better fighter."