Froch: Give Bute respect
Carl Froch has paid tribute to Lucian Bute for putting his IBF super-middleweight title on the line in Nottingham.
Last Updated: 21/05/12 1:09pm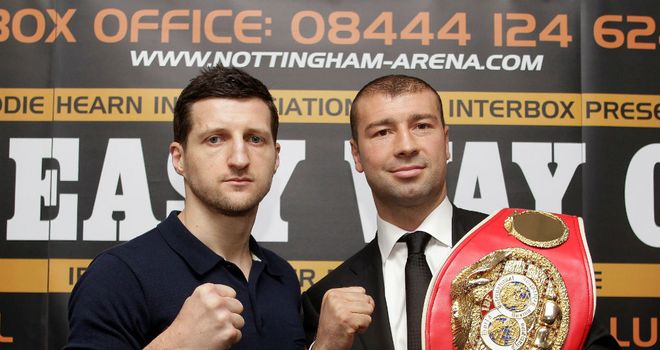 Carl Froch has paid tribute to Lucian Bute for putting his IBF super-middleweight title on the line in Froch's home town of Nottingham.
Froch will once again enter the ring against elite level competition on May 26 following his successful stint in the World Super Six Series over the past few years.
The 'Cobra' lost the Super Six final against Andre Ward but the former WBC champion gets another chance to win a portion of the world title against the unbeaten Bute, a Romanian-born Canadian who rarely fights outside of Quebec.
Pumped
"It's great to be back in Nottingham - it's been too long," said Froch. "I am so pumped up for the fight and I've got to give Lucian Bute credit.
"I've given him stick in the past for not fighting the top opposition, he didn't enter the Super Six but he beat who was put in front of him.
"He's not often fought out of his hometown so to put his title on the line in my backyard he's either very confident or very stupid - I think he's very confident and he's the champion, so why not be confident.
"I'm coming into the fight on the back of a loss, and when I did that after the Kessler defeat I was so tuned in to beating Arthur Abraham and it was a whitewash - and that's how I feel about this fight.
"I've got a lot of respect for Lucian - he is a top level athlete and so am I, there's no needle between us and there doesn't need to be, as the fight speaks for itself."
Froch insists there was never any chance of him taking an easier interim fight to ease himself back following his defeat by Ward in Atlantic City.
"There was talk of taking a steady fight after the seven top-level fights I've had on the spin against world-class, elite fighters," he added.
"But I don't really want to be mixing and involved with lower-level fighters so I said to Eddie (Hearn, promoter): 'Ideally, I want to be jumping back in there with top-level fighters'.
"You don't see Floyd Mayweather having 10 months off and taking a warm-up fight."
Recognition
Bute said he was looking to gain more international respect by fighting outside of Canada.
"Very happy and excited to be here today - I would like to thank Carl for accepting the fight and stepping in the ring with me," said the 32-year-old with a 30-0 record.
"Big fights take time to negotiate but I'm glad that this fight has come. Both Carl and I have had similar careers so far, for me it's the right time to come away from home and defend my belt and in my heart I believe I will be victorious.
"I've been criticised for not fighting away from home. I remember when Joe Calzaghe fought away from home at the end of his career he received the respect he deserved for doing that and that's what I am looking to do.
"Carl is a good strong aggressive fighter. He will have 9,000 cheering for him and not many for me. It has all the ingredients for a great fight."