Price: My biggest test so far
David Price believes Audley Harrison will provide the biggest test of his fledgling career when the pair meet on October 13.
Last Updated: 10/10/12 12:03pm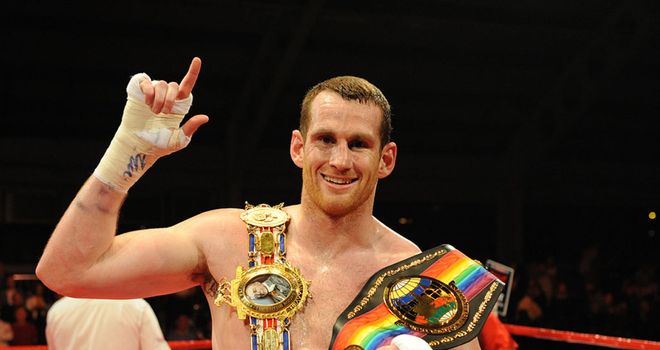 David Price believes Audley Harrison will provide the biggest test of his fledgling career when the pair meet at the Liverpool Echo Arena on October 13.
The British and Commonwealth heavyweight title holder is already being talked about as a future world champion despite having only 13 fights in the paid ranks.
But impressive wins over John McDermott and Sam Sexton already this year have catapulted the affable Liverpudlian into the public's awareness.
And a first title defence against the well-known former Olympic gold medallist can only serve to boost his reputation further still.
Dangerous
Despite Harrison's disappointing pro career, that has seen him fail to perform on numerous occasions - most notoriously against David Haye in 2010 - Price knows the veteran is a potential 'banana-skin', and can not afford to take him lightly.
"It's my biggest test so far without a doubt," said Price, an Olympic bronze medallist in Beijing. "If people want to judge Audley on the David Haye fight that's up to them, but I won't be doing that.
"I'm judging him at his best and when he's at his best he's dangerous for anyone in the world so it's a good step up for me, from someone like Sam Sexton.
"No disrespect to Sam, but he's not in the same league as someone like Audley Harrison. I'm looking forward to testing myself against the best Audley Harrison possible.
"I'm glad he's injury-free, I'm in this game to test myself and to get to the top and I think this fight will be brilliant for me. I'm going to have to answer a few questions, against a different type of style I'm going to have to deal with.
"It's going to do a lot for my development and it whets my appetite. I know Audley Harrison inside out. I was on the England squad at the time when Audley won in Sydney, and I looked up to him."
Business
At 29, Price is 11 years younger than his opponent and it is not a fight he thought would ever come off.
"It's a fight I didn't think would happen in my professional career, I thought Audley would be happily retired, but it's going to happen," he added. "It's not personal on my part, it's just business, but I think the fans can expect an exciting fight.
"It's a real crossroads fight. If I was to lose where would I go from here? If Audley was to lose where does he go? People are going to want to come and see it.
"He's fought for a world title and been European champion. I'm 13 fights into my professional career, and I've got more to lose. I don't know if that says more about me, or more about Audley.
"But the pressure's on me to win, and I'll take that as a compliment, against someone who's as dangerous as this man. He's got nothing to lose and that makes him dangerous."