Frampton - I'll prove I'm ready
Carl Frampton has vowed to silence Steve Molitor after the Canadian's claims he will find himself out of his depth in their clash on Saturday.
Last Updated: 20/09/12 5:40pm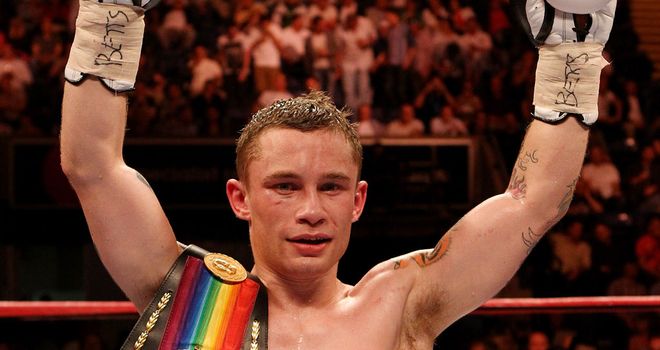 Carl Frampton has insisted he will prove his class against Steve Molitor on Saturday night after the Canadian's claims he will find himself out of his depth in their super-bantamweight contest.
Molitor, a two-time world champion, agreed to face Frampton after Kiko Martinez pulled out and the experienced 32-year-old claims the step up in class has come too soon for his opponent.
But unbeaten Frampton - who is managed by Barry McGuigan - is determined to send out a statement that he is ready for the world's best by defeating Molitor at the Odyssey Arena in Belfast, in a bout that will be shown live on Sky Sports.
"He's said a few things about me in the build-up and he obviously likes to talk a bit - that's fine," said Frampton.
"All that matters to me is victory on Saturday night and doing it in the best possible way for the fans. He won't have any friends in the Arena on Saturday and his words won't be able to help him then.
"I would love to fight him right now, I'm totally ready. This is a massive fight for me, I know that I am leaping up the levels to face Molitor, but I believe I have more than enough to cope with him and this is the right time for me to prove I can cut it at the top.
"It's going to be a lot better beating a guy like Steve Molitor than it was beating Prosper Ankrah. It's going to make people stand up and take notice. This is a 50-50 fight."