Former world champion Vyacheslav Senchenko confirmed as Ricky Hatton's comeback opponent
Ricky Hatton will make his boxing comeback against Vyacheslav Senchenko on November 24.
Last Updated: 01/10/12 3:00pm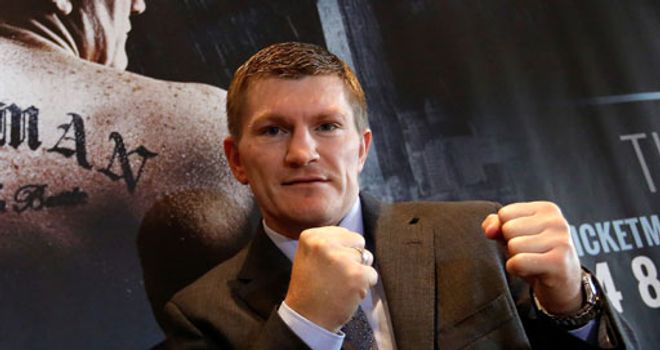 Hatton will end his three-and-a-half-year exile from the ring against the 35-year-old Ukrainian in a welterweight clash at the MEN Arena in Manchester.
Senchenko might be largely unknown among casual boxing fans, however he is a former WBA welterweight champion - and only lost his belt in his last outing.
That defeat - his first in 33 bouts - came to Paulie Malignaggi, a former Hatton victim.
Senchenko had padded out his resume by fighting almost entirely in his hometown of Donetsk, where he took on Malignaggi in the fourth defence of the strap.
However, the brash New Yorker - not known for his punching power - ended his reign by forcing a ninth round stoppage, after which he called out Hatton for rematch.
Hatton claimed a shutout victory over the American four years ago but Malignaggi said things were not right in his camp and subsequently changed trainers.
"I can't wait to get in the ring now and I'm sure that Vyacheslav Senchenko will give me a good fight," said Hatton. "It's one that I am confident I can win though.
"Senchenko lost the last time he fought to Paulie Malignaggi but he has got a good pedigree. I'm in great shape, I'm feeling good and I know I can put on a performance for all those watching.
"There were certain opponents mentioned, people like Michael Katsidis and people were excited about him coming, but I think this is a better opponent and I say that with the greatest respect.
"Who knows, they could be further down the line, but for my first fight back, to fight a former world champion, a world-ranked opponent, I think it speaks volumes for what I'm all about.
"I've never made things easy for myself, I never shirk the best. People said I might want to have an easy one to get my eye back in, but that's not me."
Hatton's comeback fight sold 18,000 tickets within 48 hours and is now sold out.