Amir Khan believes new trainer Virgil Hunter will put his career back on track
Amir Khan believes new trainer Virgil Hunter will change his fighting style for his bout with Carlos Molina.
Last Updated: 05/10/12 4:33pm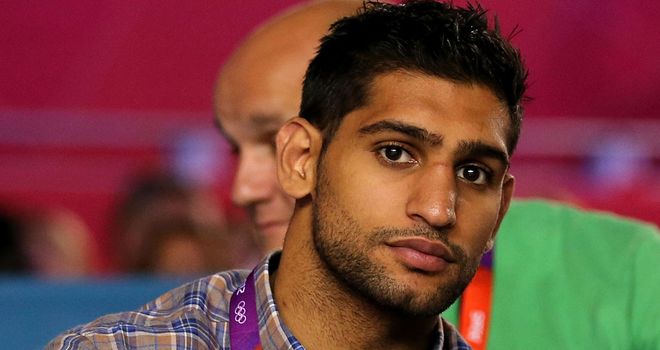 Khan parted company with former trainer Freddie Roach after his upset knockout defeat by Danny Garcia in July and Hunter will oversee preparations for a comeback fight against Carlos Molina, set for 15 December.
The Bolton fighter fully admits his defensive frailties were brutally exposed by Garcia, but he is confident that Hunter will tone down his all-action approach in their upcoming training camp.
"That's what is going to happen. I'm going to work on a new defence, new tactics for the next fight and hopefully not make any mistakes," he told Sky Sports News HD.
"Because at times I get too brave for my own good. I was winning the fight against Danny Garcia quite easily and then I started getting into a fight with him which is not my style really."
Khan fears he got stale as a fighter during his last few camps with Roach and expects Hunter to work on skills which he feels were neglected by his former trainer.
"I've got a great offence, but I've never had a trainer to work on my defence. I've always had a poor defence and I think Virgil Hunter can bring the best out of me, hopefully work on the mistakes I make," he said.
Reflecting on his relationship with Roach, he added: "The focus wasn't there as much and we kept on doing the same things in the gym, and that is probably why a lot of fighters that I fought knew exactly what I was going to do.
"I've learned most of the things I have to from Freddie Roach, he is a great trainer and we are always going to be friends."
Speculation about a bout between Khan and the returning Ricky Hatton has gathered momentum in recent weeks, and he is willing to face his friend in an all-British superfight.
"Definitely it's a realistic fight, a fight the public want to see, a fight probably Ricky wants also," he said.
"We are good friends, we have been good friends for such a long time. We are in the same weight division, so you never know it could happen in the future."