Audley Harrison will take time to consider his future before announcing his retirement
Audley Harrison has said he will consider his options before announcing his retirement from boxing.
Last Updated: 15/10/12 1:46pm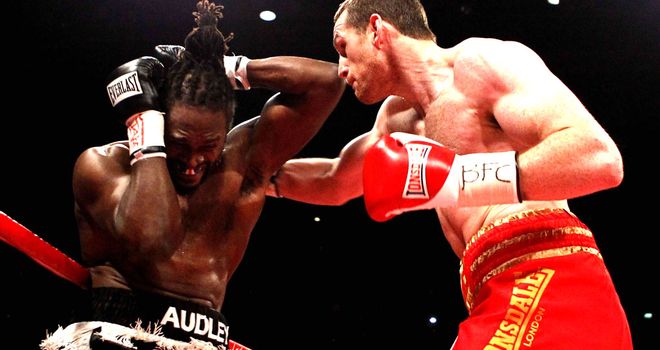 In a statement released on Monday, the 40-year-old revealed he would take time to consider his future following his brutal first round loss to David Price at the weekend.
In what Harrison called his 'last-chance saloon', the former Olympic champion was knocked unconscious by the Liverpudlian and ended up in hospital with a broken nose.
However, he will not be rushed into bringing the curtain down on a professional career that promised more than it delivered.
"I said I had prepared very well for this bout and it showed...I was in great shape and went out there with no fear, believing I could win it," he said.
"My whole game plan was about avoiding his right, so to get lined up like that is a disappointment for me. Father time has caught up with me, as I didn't see the initial shot, so could not react.
"He finished me off like a good pro, so I have no complaints. I have a broken nose for my troubles, so I didn't get away scot free.
"I have said when I turn up to win, and lose to nothing other than ability, I will know my time is up, so this could be my last bout. I'll take some time to think this out, as I never want to come back to boxing once I've walked away.
"If it's to end here, what a ride it's been and I'm grateful to the universe for allowing me to find my destiny and walk the precarious road my way."