Kell Brook is determined to become IBF mandatory challenger by beating Hector Saldivia
Kell Brook is determined to become IBF mandatory challenger by beating Hector Saldivia on Saturday night.
Last Updated: 17/10/12 1:11pm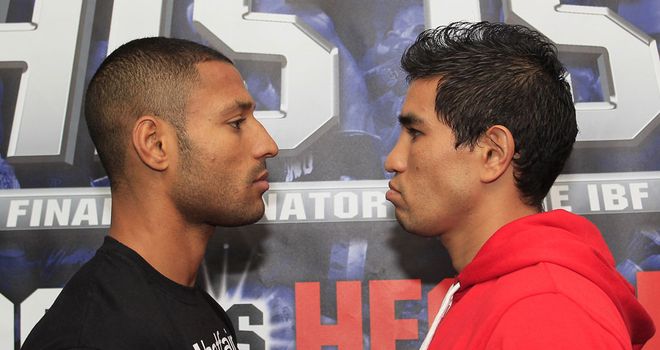 The 26-year-old edged to a points victory over tough American Carson Jones last time out but insists he has taken preparation for Saldivia far more seriously, with the winner assured of a tilt at the winner of Randall Bailey v Devon Alexander.
Brook said: "He looks tough but I've had a fantastic training camp. I know a lot of fighters can go on about that but it's all going to be put down in that ring on Saturday night. You're going to see how good training's been.
"I'm in a very nice place. I've never drunk and eaten like I'm doing now. I'm always smiling and people are noticing. It's the best I've ever felt physically and mentally. I can't wait to put what we've been doing in camp into the task in the ring.
"I'm ready to box. I'm ready to fight. I'm ready to do anything. I've done 12 weeks of hard training, being away in Fuerteventura. Everything's been prepared and monitored perfectly. Saturday can't come quick enough for me.
"Saldivia is very tough. He keeps coming forward and chucking big shots, so you're in for one hell of a fight. We both know the winner will be fighting for a world title so two gladiators will be giving it their all. The fans will not be going home disappointed, let me tell you.
"A lot of fighters can think ahead of their opponent but I'm completely on Saldivia. I want to get through him and then the other fights will come. I'm focused 100% on him.
"This is it. I go on to fight for the world title so it's very important for me. I've never been as ready for a fight as I am for this one."
Join us at skysports.com/boxing for live and interactive commentary from Sheffield for Saturday Fight Night, featuring Kell Brook v Hector Saldivia.