Robin Reid and Kenny Anderson predict an exciting fight in Sheffield on Saturday
Robin Reid and Kenny Anderson are promising fireworks ahead of their fight for the British super-middleweight title.
Last Updated: 16/10/12 8:28pm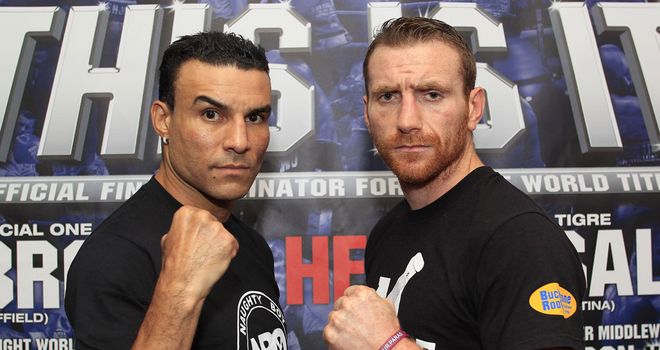 The pair are coming from opposite ends of the spectrum, with Reid in one final shot at the big time while Scot Anderson gets a long-awaited shot at the belt.
Reid, now 41, was an undefeated world champion as long ago as 1997 but says it is the lure of the Lonsdale Belt that keeps him active.
"I'm a former world champion but never got to take the normal route," said. "I never got a chance to fight for that Lonsdale Belt apart from Carl Froch in 2007 when I was riddled with injuries.
"I've got a chance to rectify that now against Kenny, I'm looking to win the fight and win that belt outright. That's something I've always wanted to do.
"Kenny's a good come forward fighter, I'm a counter-puncher, it's got all the makings of a great fight."
Resolve
Anderson has waited all year for a re-match with George Groves that never materialised, but with 'St George' stripped of the title the 29-year-old believes his time has come.
"It's been a long road, but that just makes it all the better," he said. "It's strengthened my resolve.
"The stuff Robin's achieved, I'd like to achieve. This is my time, I know it's my time. I've had a perfect training camp, it couldn't have gone better.
"It's going to be a good one for the fans, inevitably it's going to be an exciting fight and one to watch."
Promoter Eddie Hearn is looking forward to the clash, which will open the show on Saturday Fight Night, and is not overlooking veteran Reid.
"I think they are going to stand there and knock lumps out of each other," he told Sky Sports. "He went in Prizefighter, and he was rubbish. Three rounds was never going to suit.
"He then fought Wayne Reed and stopped him in three rounds. Then it was (Daniel) Cadman, who is top-10 in the country, and he battered him.
"Anderson should be too good for him but he's going to hit Anderson and I wouldn't be surprised if it went the other way, and what a story it would be.
"It's the first fight of the night and I think that will get everyone excited."
Join us at skysports.com/boxing for live and interactive commentary from Sheffield for Saturday Fight Night, featuring Kell Brook v Hector Saldivia.