Former European champions Darren Barker and Kerry Hope will clash on December 8
Darren Barker will take on former European champion Kerry Hope on his belated return to the ring on December 8.
Last Updated: 22/10/12 3:36pm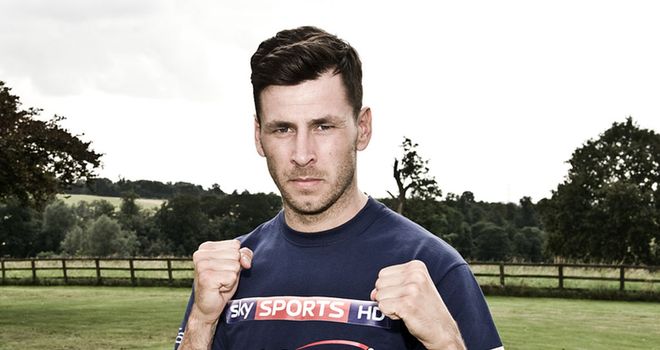 Barker, also an ex-European title holder, has not fought since his brave world title challenge against Sergio Martinez last October following a series of injury setbacks.
However, promoter Eddie Hearn believes the Barnet brawler is ready for a difficult comeback fight.
"We needed to give him a challenge, and there's nothing like a big domestic challenge to try and get yourself back up for it," he said.
"We all saw what Kerry did to (Grzegorz) Proksa first time around to win the European title, he lost the rematch but it's a fight that has loads of different connotations.
"Kerry has a chance to get himself back on the European and world scene and for Darren to get back on track and try and get that world title shot in 2013."
Barker admitted he felt the depths of dispair following his most recent injury setback when a bicep injury ruled him out of the big Alexandra Palace bill in September.
"It was a depressing time, soul-destroying. I hit rock bottom," said Barker, who has won all but one of his 24 fights.
"I had to do some soul-searching and see if boxing was for me. At one point I'd announced my retirement to myself. It was rock bottom stuff.
"You get to 30-years-old and you start asking what am I on this planet for? But I've turned the page and mentally I feel so switched on. I'm ready to kick-start my career again."
Inactive
The 'Christmas Cracker' bill will also feature the return of English middleweight champion Erick Ochieng and the unbeaten John Ryder, who takes on Albania-born Kreshnik Qato also for the English bauble.
"Erick is someone who we're finding very difficult to get these big fights for because no-one wants to fight him, but we will get there," added Hearn.
"Jamie Cox is the Commonwealth champion and we've written to Simon Block to view our disapointment into how inactive Jamie's been.
"If not it may be time to bring over and international name and fight for an inter-continental title. It's time for Erick to really step up."
The evening is headlined by the return of Lee Purdy, who takes on Kell Brook victim Carson Jones in a fight for the IBF international welterweight belt.