Carl Froch looking forward to going to Canada to face Lucian Bute again
Carl Froch told Sky Sports he's relishing the prospect of a rematch with Lucian Bute at the start of next year.
Last Updated: 04/11/12 4:45pm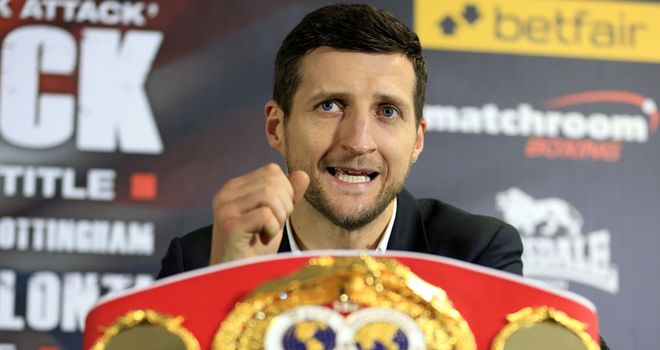 Fighting for the first time since he lost his IBF super-middleweight title to Froch in Nottingham, Bute battled his way to a unanimous points win over tough Russian Grachev in Montreal on Saturday night.
The result sets up the likelihood of the Romanian-born 32-year-old getting the chance to avenge the only loss of his professional career next year, only this time he will have home advantage.
But Froch - who will defend his belt against Yusuf Mack on November 17, live on Sky Sports - isn't bothered about having to go overseas for the rematch.
"Let's be honest, it wasn't the most impressive performance from Lucian Bute that I've ever seen," he told Sky Sports. "It wasn't vintage by any stretch of the imagination.
"Bute didn't really impress, but it was a comeback fight from a devastating defeat against myself, so what did people expect? He needed to find his feet again, find his confidence. I'm sure he's done that. I think mentally he needed to get that fight in the bag.
"He's got the win and done what he needed to do to re-establish himself. Now I'm hoping the rematch will happen.
"It's his chance to try and get back the IBF world title I took from him, but he'll have the home advantage this time.
"As a team, we're hoping he takes the fight so I can go out there and give him another pasting."
Road warrior
Froch, who confirmed that he would likely face Bute in either March or April of next year, is no stranger to fighting on the road and has previously travelled to Europe and the United States for fights.
"In Nottingham I had my home crowd and I had the advantage of all the home comforts. It was all very much in my favour," the 'Cobra' added.
"But there was pressure and a different expectation - I was coming off the back of my own loss (to Andre Ward), so there were demons as well in there.
"I believe going on the road to Montreal will inspire me. I've been on the road to box many times - I've been to Denmark, Finland, Connecticut and Atlantic City twice.
"It's not a really daunting prospect to go over to Montreal and face Bute. This is someone I've beaten before and I'm very confident."