Nathan Cleverly is proud to be following in the footsteps of Joe Calzaghe
Nathan Cleverly says he is proud to be carrying the mantle of Joe Calzaghe as he defends his world title in America.
Last Updated: 09/11/12 12:07pm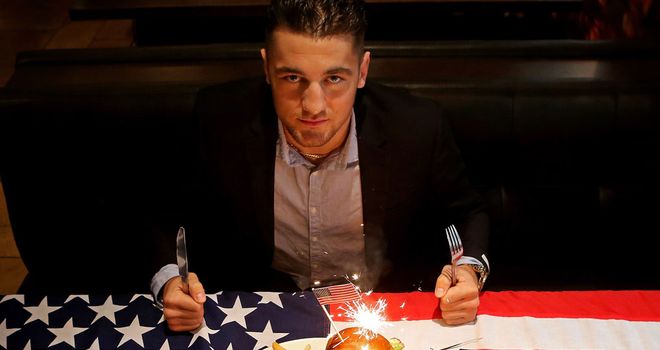 In a third change of opponent the Welshman now faces the unheralded Shawn Hawk as he looks to boost his profile Stateside.
Cleverly believes he he carrying on the work of former stable-mate Joe Calzaghe as an unbeaten WBO champion.
"It's a really proud moment for me," he said. "Joe retired, he was looking for a new star to come through and take over the mantle.
"Fortunately and thankfully I've fallen into that category. It's a pleasure taking on that role as world champion, keeping the flag flying high and doing the nation proud."
Experience
Cleverly has boxed in America before, on the same night that Calzaghe defeated Bernard Hopkins four years ago.
"It was a great experience for me in 2008, my 12th professional fight, I really loved it out there," added Cleverly.
"I was out there for two weeks training and enjoyed the fight night. The atmosphere was great and I think that's good experience to put me in good stead for this opportunity. It was definitely something that I wanted to feel again.
"I got a taste of what it was like to box in America, I loved it."
Passionate
Meanwhile, promoter Oscar De La Hoya believes there is a real possibility Cleverly could defend the title against Hopkins in the UK.
"What is very possible is Bernard Hopkins going to Britain to box Nathan," he said.
"We feel that the UK fans are some of the most passionate and knowledgeable in the world when it comes to boxing.
"A lot of fighters in the United States are now realising they should go overseas and challenge the best.'