Floyd Mayweather is still too good for Manny Pacquiao according to his trainer
Roger Mayweather says his nephew Floyd is still capable of beating the top fighters and will return to the ring soon.
Last Updated: 14/11/12 1:55pm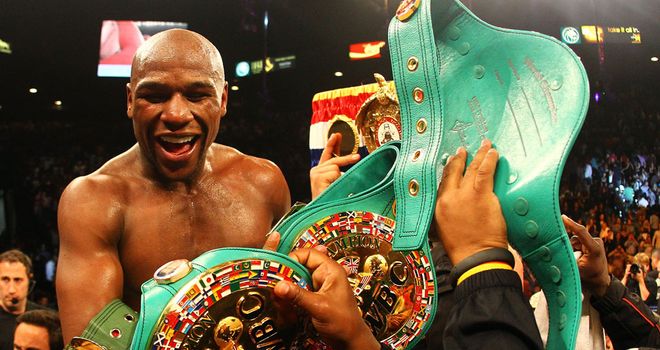 The five-division world champion has not fought since May when he defeated Miguel Cotto in a unanimous points decision to take the WBA light middleweight crown and extend his record to 43-0.
He served two months of an 87-day prison sentence for domestic abuse from 1 June and Roger Mayweather admits his charge may have lost some of his pace and power.
But he is still convinced that the world's top two welterweights, Filipino legend Manny Pacquiao or unbeaten American Timothy Bradley, are still no match for the 35-year-old.
"He's going to get back in the ring," the elder Mayweather said. "Floyd's still better than 90% of the (boxers) out there.
"Floyd would still whoop Pacquiao, he would still whoop Timothy Bradley. He would do that for sure.
"When you talk about 'if Floyd can do what he did before,' well, maybe he can't do what he did before, but he can do well more than what they can do.
"You saw what he did to (Victor) Ortiz, didn't you, you saw him whoop (Miguel) Cotto, didn' you? And I did not see Floyd test positive for steroids in him, did he? All right then, I think he can put a little more hurt on someone.
"Put a little hurt on Bradley and Pacquiao. Them the two fights he has to have, and it will clear it up right there."