Scott Cardle will not be fazed by late stand-in Miguel Aguilar in Nottingham
Scott Cardle will face a new opponent when he continues his education in the professional ranks in Nottingham.
By Adam Norman
Last Updated: 14/11/12 2:19pm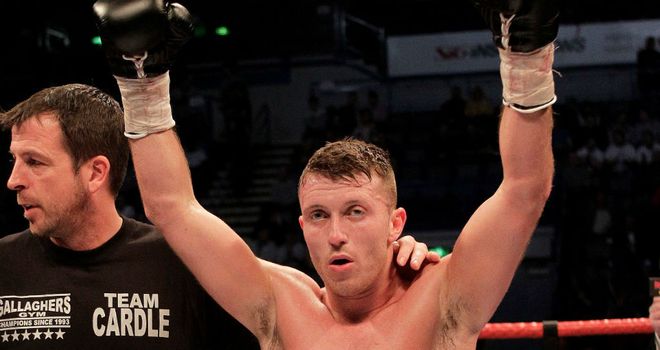 The 23-year-old makes his eighth appearance of the year when he takes on Spain-based Miguel Aguilar in his first eight round contest.
Aguilar won his first 10 fights but has lost his last four after stepping up in class, including to Britain's former European champion Stephen Foster Jr.
However the late change - Cardle was originally set to face Joe Elfidh - doesn't faze Joe Gallagher's protege.
"This is my first eight rounds, it's a step up in class as well so it's all looking good," he told Sky Sports.
"We've got a lad from Spain now after Joe had to pull out with a shoulder injury. I've trained up to a good level so I'm ready for whatever really.
"I'm more than confident for this fight. I found out last week and we got a new opponent straight after that, but he's pulled out with a hand injury.
"It's one of those things you've got to put up with. I've never worried though, I feel I've got that pedigree behind me to last the rounds and whoever's in front of me and I'm always prepared."
Promise
Cardle has had a busy year but says he wouldn't have it any other way.
"I'm happy. Eddie (Hearn) wanted me to have a busy first year and he's kept his promise," he added.
"It's what I wanted, to stay in the gym the whole year, and it's all working out, I'm progressing nicely and stepping up when I need to."
Cardle has a regular sparring partner in former British champion Anthony Crolla and the youngster is benefitting from the experience.
"Me and Crolla are more or less the same weight, so we spar regularly," said Cardle. "He's very unpredictable so it's good to learn from him.
"If I'm doing half okay with Crolla I feel confident for the fight."
Join skysports.com for live interactive commentary from ringside for Fight Night in Nottingham featuring Carl Froch vs Yusuf Mack.