Yusuf Mack's trainer admits the American faces an uphill task in Nottingham
Trainer Percy Custus is full of admiration for Carl Froch as he prepares Yusaf Mack for the big fight on Saturday.
Last Updated: 14/11/12 3:55pm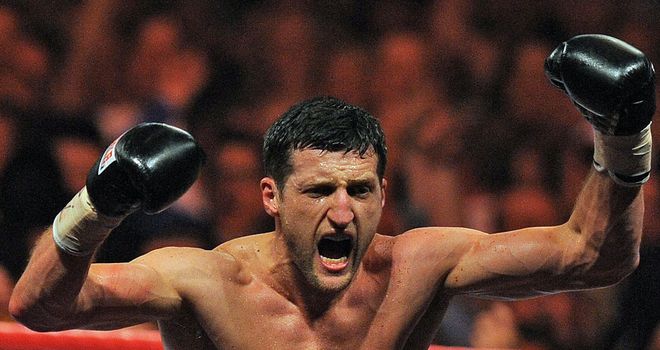 Custus, the master of Shuler's gym in Philadelphia, saw Froch as a giant of the ring long before he got the offer for Mack to challenge for the IBF super-middleweight title in Nottingham.
"This is an uphill fight and we know it," he told Sky Sports. "Just before we got the call we were saying how good this guy was, we weren't even thinking about fighting him. I was saying 'this guy is a beast'.
"Then they called me up and the numbers were better than other fights on the table. So we went on down a weight to get paid.
"We could have fought Nathan Cleverly but the money wasn't right."
Here to win
That's not to say Mack - who has not fought at super-middleweight for several years - has come to England just for the payday in his second world title fight.
"I think if Yusaf was coming just to get paid I'm going to step off this guy. You can check my credentials - we don't do that kind of thing, I'm not going to be in his corner.
"I came over to win this fight. As long as he do what I ask him to do, it's going to be a good fight."
And while Custus holds Froch in high esteem he believes the task is not insurmountable.
"He's special in his way, but he's just another human being that we've been training for since he was 10 years old," added the veteran. "We step it up a little bit but we don't have to change a whole lot for this guy, it's all about skills.
"They can all do certain things but it's down to who's the smartest in the ring on that day.
"He's only a human being, he's only a real good fighter. We're not going out of our way.
"He (Mack) is already made, he's 32 years old. You can't change so much. We make a couple of adjustments for Carl Froch because we know a couple of things he's going to do."
Mack has been stopped four times in a 37-fight career and has campaigned at light-heavyweight since beng knocked out by Librado Andrade in 2007.
Join skysports.com for live and interactive commentary from ringside for Fight Night in Nottingham featuring Carl Froch vs Yusuf Mack.