Rising star Leigh Wood looking forward to hometown fight after missing out in May
Leigh Wood can't wait to be part of the undercard in Nottingham - provided this time he does make it into the ring.
By Rob Lancaster
Last Updated: 16/11/12 11:27am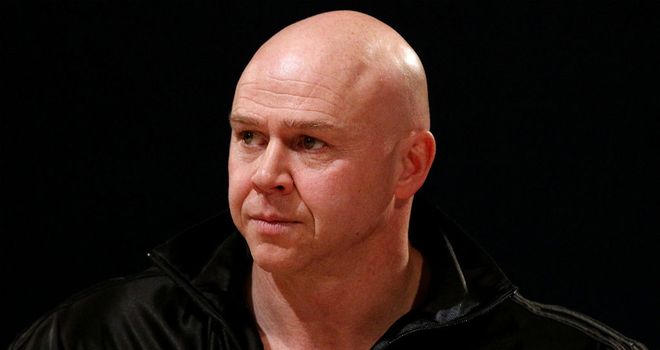 The up-and-coming Nottingham fighter will get the chance to fight in his hometown on Saturday night when he takes on Dai Davies in a six-rounder that will be his fifth outing as a professional.
However the 24-year-old isn't take anything for granted - he was also due to appear on the bill when Froch took on Lucian Bute back in May, only for his bout to be pulled at the last minute due to scheduling issues.
"I had my gloves on and even warmed up, so it was a bit of a rubbish night for me," he told Sky Sports. "However, when Froch got that result, it kind of put a smile back on my face.
"It was bit of a tease. I'd sold a lot of tickets and I hoped to gain a lot of experience from it.
"This time I've sold even more tickets and although this time he isn't fighting someone quite as well known name as Bute, when somehow Froch was an underdog, it's still a big night.
"I had that fight cancelled, then also another after that. My fourth fight actually seemed to be jinxed, then when I finally did get it the opponent was drafted in the day before."
Wood, who sees his long-term future at super-bantamweight, is now keen to stay busy, including being back in action before the end of December.
"My last fight I put about six or seven lbs, and gave away five lbs on the day, so to get the fights I'm not really bothered at what weight I fight at right now," he admitted.
"If an opportunity comes up at featherweight, which I will be boxing at in Nottingham and can make the weight in a few days, then I'll snatch it up, but ideally I want to be at super-bantamweight."
Olympic possibilities
This year could have been much different for Wood had he made the Great Britain Olympic team for London 2012 with a close defeat last year ending his hopes of competing at the Games, making it an easy decision to leave the amateur game and join up with the Ingle gym in Sheffield.
"I got scouted for Team GB and Robert McCracken put me on a trial for six months. I didn't lose in that time, I beat everyone domestically and internationally, and then they extended my trial," 'Leigh-thal' said.
"I got beaten in the semi-finals of the ABA tournament on points. He was a southpaw and at that time I struggled with them. He just pipped it.
"I was on the verge but after that fight I was dropped off the GB team. It was then I thought that it would end up being a lot harder for the boys who were competing at London, over whether they turned pro or not, so I decided to get a head start on them.
"I always came to the Ingle gym in my holidays, so when I turned pro I knew where I'd go. It wasn't a hard decision for me.
"I always wanted to turn pro as soon as I turned 18, but I was doing so well as an amateur. Each year I was improving, and I was a late developer. I was always a few years behind, so I don't feel like I've lost out at all."
Now the aim is to climb the rankings quickly under the guidance of the Ingles, with the super-bantamweight division currently one of the hottest at domestic level.
"John has spoken to me and hopefully in the New Year we can get some kind of title, a Midlands or Area title whatever it will be, then hopefully that would help push me into contention for a shot at the English or British belt in the next 12 to 15 months," Wood added.
"It's the best division at the minute. I know welterweight is pretty good, but super-bantamweight you've got probably nine lads in the division who are neck and neck."