Tony Bellew pumped up after fiery weigh-in with Roberto Bolonti
Tony Bellew is determined to "inflict some pain" on Argentina's Roberto Bolonti in Nottingham on Saturday night.
Last Updated: 17/11/12 4:00pm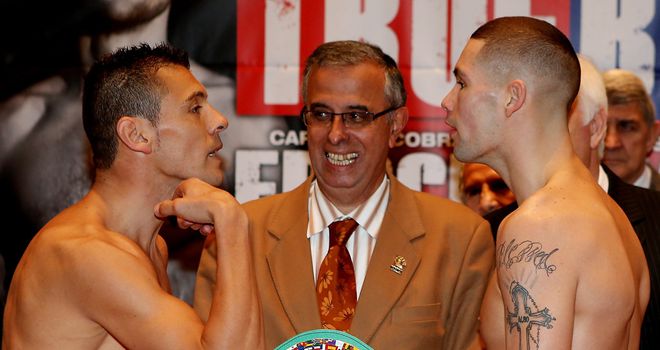 The pair were involved in some verbal sparring at Friday's weigh in, with Bellew 12st 6lbs and 10oz, the Argentine 12st 5lbs.
Bellew takes on Bolonti - who arrives with a 30-1 record - as chief support to Carl Froch, and the Liverpool light heavyweight is in no mood to get involved in a drawn out battle.
The pair went face to face at the scales, with Bolonti making cut-throat gestures but Bellew remains unimpressed.
"He ranks above me in every single organisation. He's WBC number five, above me in the IBF and WBA and I've got to get in there and prove the ranking wrong and take his away from him," Bellew said.
"He comes here with a very high ranking, but he isn't going to leave with it.
"It is about seeking and destroying and really hurting someone and getting a vicious knockout; that is what this fight is about.
"I believe I am good enough to go in there, stand there and trade. I can go into this fight and have a fight and I am happy to do that.
"I'm ready, I can't wait for the action to start and for the bell to go. It's been a good 10-week camp, I've come straight off the back of the last fight and I'm looking forward to getting back in the ring and doing the business.
"It's a pleasure, being an active fighter is being a good one and thanks to everyone involved with me, my trainers, promoters, TV companies, I'm busy.
"That's all I've ever wanted, to be a busy fighter and earn an honest living and that's what I'm doing. I'm fit, healthy and here to do a job."
The only blemish on Bellew's 19-fight record is his points defeat to Nathan Cleverly.
Cleverly last weekend defended his crown against the little-known American Shawn Hawk, and Bellew was dismissive of the Welshman's choice of opponent.
"The guy he fought last time, I actually rejected him. Shaun Hawk's name was on the list and I knocked him back and took the highest-ranked opponent (Edison Miranda).
"I don't need him to progress in my career and I'm not going to even give him a word, it's just a joke."