Tony Bellew secured a unanimous decision win over Roberto Bolonti in Nottingham
Tony Bellew overcame a nasty cut to defeat Argentina's Roberto Bolonti with a unanimous decision in Nottingham.
Last Updated: 18/11/12 8:04am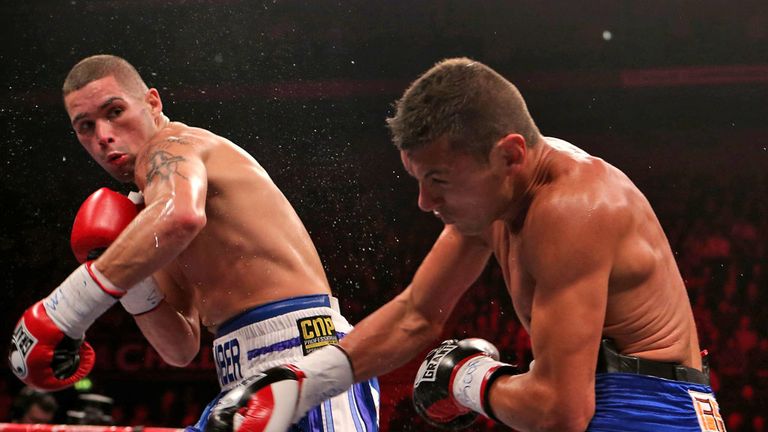 The fiery Liverpudlian was seeking to build on his recent win over Edison Miranda and secure a second bid for world honours after an unsuccessful shot at Nathan Cleverly's WBO light-heavyweight title last year.
He continued his progress at the Capital FM Arena with a solid win over Bolonti despite suffering a nasty third-round cut above the right eye which had initially looked potentially catastrophic to his hopes.
Bellew provided the early pressure and landed a left which wobbled Bolonti mid-round. A right to the top of the head then put Bolonti down, though the South American may have lost his footing.
The second round was all Bellew until a cheeky right from Bolonti gave him food for thought. A left hook put Bolonti down in the third but again he rose quickly with a clear head.
He was certainly more wary as a result but things threatened to turn when Bellew suffered a bad cut over the right eye, thought to be from a Bolonti left hook.
The wound was far from superficial as blood flowed into the Englishman's right eye but Bellew at least had Mick Williamson, a renowned cutsman, in his corner.
A left hook to the body by Bellew punctuated a quieter fifth round with the Briton remaining patient safe in the knowledge Williamson had worked his magic on the cut.
While the pace was slow and the action fractured, Bellew was winning the rounds with relative ease. Another uppercut in the 10th led to another aggressive flurry but again Bolonti held it together.
At the final bell the fighters embraced, with both men claiming to have won. But the victory was Bellew's, with scores of 120-106, 119-107 and 120-106.
Not worried
Bellow was not too worried about his potentially match-ending cut, stating he always backed his cut man to look after him until the bout was over.
"I've got the best cutsman in the game in Mick Williamson so I wasn't too worried about the cut," said Bellew.
"I knew I'd be cool. If you don't panic you'll be okay. I've come through a huge crisis tonight.
"He (Bolonti) is tough and he showed he had a great chin. I'm told the cut's a bad one and looks nasty but this is boxing, it happens.
"I don't think it's as bad as it looks. I was going for the knockout but it is what it is."