Joe Ward looking forward to his World Series of Boxing debut at Celtic Manor
Joe Ward is relishing the chance to make his World Series of Boxing debut for the GB Lionhearts on Friday.
Last Updated: 22/11/12 9:06am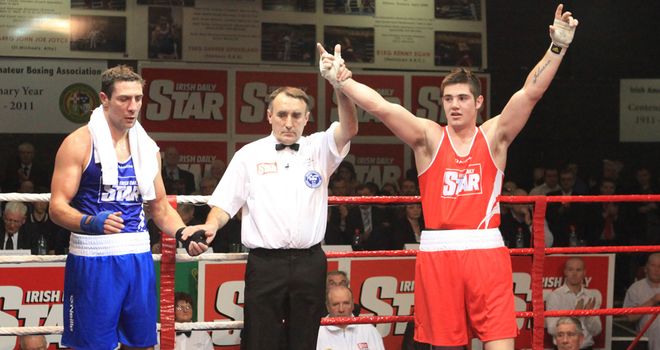 The 19-year-old had been expected to turn professional after failing to secure a place in Ireland's Olympic team, but he instead joined compatriot John Joe Nevin in committing to join the Lionhearts for their inaugural season.
Ward faces experienced Hungarian Imre Szello when title-holders Italia Thunder make the trip to Celtic Manor for their first WSB tournament held on British soil - they won their opening match with the USA Knockouts in California 4-1 last week.
The Lionhearts squad for the evening is completed by Moroccan heavyweight Mohammed Arjaoui, world bantamweight silver medallist Andrew Selby, lightweight Nevin and Olympic Games middleweight silver medallist Fred Evans.
"My plan for the immediate future is to remain amateur and hopefully defend my Irish senior title in February," Ward said.
"I am committed to the GB Lionhearts until at least the end of February, and until early May if the team is successful.
"It is fair to say I have a number of opportunities available to me at present but neither I nor my team are yet prepared to look too far into the future. For now I am concentrating on my first fight for the Lionhearts.
"Non-qualification, particularly in the circumstances, was a huge setback but the Olympic disappointment is firmly behind me now and I am looking forward to the future with a lot of hope.
"The WSB format is totally different in that the bouts are more regular so I will have to maintain my fitness levels. Only top boxers are invited to participate so clearly the improved standard will be of benefit."