Ricky Hatton in confident mood ahead of his return to the ring on Saturday
Ricky Hatton has no fears about his punch resistance heading into his highly-anticipated comeback fight this weekend.
Last Updated: 24/11/12 10:27pm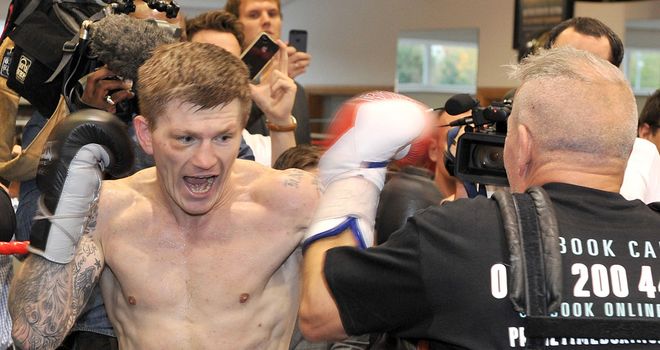 Hatton, a two-weight world champion, takes on tough Ukrainian Vyacheslav Senchenko in a 10-round welterweight contest in Manchester on Saturday after three-and-a-half years out of the ring.
The 34-year-old admitted he returned to sparring with a deal of apprehension, after being knocked down in the run-up to his defeat by Manny Pacquiao, but now feels ready to face the once-beaten Senchenko.
"It was the biggest test really," Hatton said. "In my first spar I was nervous.
"I put my protector on, put my head guard on, took a deep breath and thought: 'Phew, I didn't think I'd be doing this again'.
"But the first time I got hit on the chin I wanted to knock him out, so that's a positive.
"When I started my circuits and it started getting hard, doing my uphill sprints, it would have been dead easy for me to say 'I'd forgotten how hard this lot was, it's not for me', but I didn't.
"Every time a wall's been put in front of me I've knocked it down. If it's going to be the comeback I think it's going to be, that's the way it had to be and that's the way it has been.
"Day in, day out I train my fighters - jab first before you go in, move your head after the combination and stuff like that. I can't tell my fighters to do it if I don't do it myself.
"Because I come in the gym in the morning and work with my fighters, it sort of gets my mind racing for my workouts at teatime. I think it's going to help and make me a better fighter.
"I'm a little bit older and a little bit wiser now anyway but you see things from a coaching point of view a little bit differently and I've been able to add it to my own game."